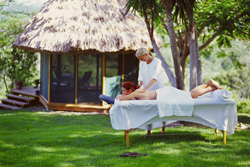 There's nothing like unspoiled nature, fresh air and ancient Maya temples to put things back in perspective
San Ignacio, Belize (PRWEB) October 31, 2016
A recent New York Times article underscores what a Belizean eco-resort, The Lodge at Chaa Creek, recently highlighted and what many Americans seem to be experiencing - the serious impact the US Presidential election is having on people's well-being.
And while the Times article outlines the problem, Chaa Creek is providing a prescription for relief, according to the popular Belizean eco-resort's owners.
Chaa Creek's offer to assist voters overcome post-election stress with a specially discounted, all-inclusive Belize vacation appeared in media across the United States, including The Pittsburgh Post-Gazette, Sacramento Bee, San Jose Mercury News and other news and media outlets.
"We appreciate that whether their candidates have won or lost, many people will wake up after November 8 physically, mentally and emotionally drained. With so much at stake, and emotions running high, that's very understandable," Chaa Creek co-founding owner and director of communications Lucy Fleming was quoted as saying.
Ms Fleming then offered relief with a program to "unwind in a tranquil natural setting, enjoying swimming and other fresh air activities while being pampered with scrumptious dining and friendly service."
An October 20 2016 New York Times feature by Lesley Alderman, "Talking to Your Therapist About Election Anxiety" quotes American Psychological Association figures indicating that an almost equal number of voters on both sides of the political fence – 55 percent of Democrats and 59 percent of Republicans, are confirming that the election is "a major source of stress."
"People seem to be getting more worried every day," clinical psychologist Elaine Ducharme said.
Sue Elias, a licensed social worker in Manhattan, said in 30 years of practice, "I have never seen an election cause this level of conflict. It's like the Civil War."
Ms Fleming said she sympathises with the stress American voters are experiencing, and that led her vacation planning team to develop a specially discounted, one-off post election vacation package that is being offered from November 10 to December 10, 2016.
"With Belize being so close, geographically, culturally, and in many other ways to the US we've always felt a certain kinship. We also appreciate that this election is taking a lot out of people, and thought, 'let's offer some relief'."
"So we put our heads together and created the Post-Election Relaxation Vacation," she said.
The minimum three-day vacation, offered from November 10 to December 10, 2016, includes everything from accommodation, meals, a wide range of activities and access to all amenities within Chaa Creek's 400-acre private nature reserve.
Ms Fleming said the all-inclusive Belize vacation package offers a complete Belize rainforest vacation from pickup to drop-off at Belize's international airport for one discounted price, eliminating the need for planning every detail and ensuring there are no credit card surprises when visitors return home.
"The point is to be stress free," she said, "We want people to relax, enjoy swimming, fine dining, healthy outdoor activities while having the chance to reconnect with nature, each other, and themselves."
"Our thatched roof, cottage style lodgings are individually designed and appointed to create a restful atmosphere that blends with the pristine jungle environment. With private verandas and hammocks, and the ability to upgrade to private Jacuzzi suites, guests can start their political detoxification immediately, " Ms Fleming said.
"And then waking up to a delicious breakfast with fresh fruits and maybe having a swim in the infinity pool sets you up for healthy activities guaranteed to make you forget the rigours of the election," She added.
In addition to eco-luxe lodgings and three meals a day in the onsite Mariposa restaurant featuring farm-to-table cuisine, the Post Election Relaxation Vacation includes guided tours of the onsite Belize natural history museum, giant Blue Morpho butterfly farm and Maya Medicinal Plant Trail, a nocturnal nature excursion and early morning birding, as well as canoeing and Horseback or mountain bike riding along miles of well-maintained trails. Guests may chose to swap horseback riding for professional treatments at the Hilltop Spa.
"While some people may consider speaking to a therapist as a way to alleviate electoral stress, we find that being surrounded by unspoiled nature, enjoying fine dining, a swim, riding along jungle trails, canoeing a tranquil river and just swinging in a hammock with a cool drink and a good book can work wonders," she said.
"In the New York Times piece, the American Psychological Association recommended that people 'Take breaks from social media to go for a walk, spend time with friends or do other things you enjoy,' and we can't think of a better place to do that," she added.
Ms Fleming encouraged people to contact their travel agent or the eco-resort directly after visiting the Chaa Creek website to learn more.
"We're betting that visiting our website and seeing what's in store, and then making a reservation will provide some fast relief and make the coming days more bearable. Having something to look forward to is sure to help relieve stress, no matter what the outcome of the election is," Ms Fleming said.
"There's nothing like the timelessness of unspoiled nature, fresh air and ancient Maya temples to put things back in perspective," She added.
About The Lodge at Chaa Crerk
The Lodge at Chaa Creek is a multi award winning eco resort set within a 400-acre private nature reserve along the banks of the Macal River in Belize.