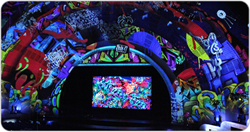 We definitely jumped through whatever hoops we could to get this done and Christie was super accommodating...
Cypress, California (PRWEB) October 22, 2016
Christie® has partnered with Radio City Music Hall to provide its state-of-the-art 4K projectors, the Boxer 4K30, to enhance and add a new dimension to the world-famous Radio City Rockettes productions, including the upcoming Christmas Spectacular, starring the Radio City Rockettes and the 2016 engagement of New York Spectacular, starring the Radio City Rockettes.
With the rapid growth of technology in live entertainment and the desire to maximize the visual impact surrounding Radio City's beloved theatrical productions, The Madison Square Garden Company enlisted Christie Boxer for the projector installation.
DWP Live used the versatile Christie Boxer to create a unique visual experience by deploying three distinct arrays – eight on each side of the theater and six in the projection booth – creating an immersive environment fueled by a kaleidoscope of colors and imagery onto the archway ceiling and backdrop.
Future proofing and reducing ambient noise with Christie Boxer
"We did a temporary installation on short notice a few months prior for the 'Adele' live NBC broadcast at Radio City. After some meetings and a demonstration of the Christie Boxer projector, we were thrilled to provide our services to the Madison Square Garden Company to enhance their 2016 production of New York Spectacular starring the Radio City Rockettes at Radio City with our content design upgrades to make the show come to life in a big way and more immersive for the audience," said Danny Whetstone, DWP Live Founder and President.
"When discussing projector options for the upgrade install, we knew we wanted 30,000 lumens and a significant improvement in brightness, contrast and color depth. The Boxer was chosen as the best option because of its flexibility, lower ambient noise level, and its ability to natively display 4K​ resolution," Whetstone continued.
Working on another extremely tight deadline, this time over the Memorial Day weekend, DWP Live and Christie rose to the occasion. The installation was completed in only five days with the Rockettes already in full dress rehearsal and only two weeks before the New York Spectacular opened.
"We definitely jumped through whatever hoops we could to get this done and Christie was super accommodating, making sure we received everything we needed to get it done on time," Whetstone added.
Christie Boxer delivers kaleidoscope of imagery on concrete archways
The storyline around New York Spectacular celebrated New York City in the summertime and centered on the trip of a lifetime for two kids, who, while on a vacation in New York, were separated from their parents. The city magically comes to life to help to reunite their family in the end. The production features iconic scenery of New York locations and landmarks such as the Empire State Building, Wall Street, Central Park and Times Square, alongside larger-than-life statues like the Statue of Liberty and the Wall Street bull.
"All of the content works to bring the audience closer and makes them feel like they are in the environment rather than just watching it," said Whetstone. "With the installation of projection mapping technology, Radio City was virtually transformed – creating a new live entertainment experience. I had the pleasure of seeing opening night of New York Spectacular, and the projection mapping brought another level of awe and excitement to audiences. Rather than just focusing on the stage, the show became an immersive experience. Being involved in this project from installation to audience member reminded me why we strive for excellence – to provide the best experience possible for all who see it."
The installation is raising the profile of DWP Live as a company that not only produces one-off events using projection mapping, but also permanent projection mapping installations.
"The key takeaways from this installation are our ability to work on a short timeline and our delivery of a quality product that will be enjoyed and experienced for years to come. We don't look at any projects as one-offs. We develop and design a real structure for the long term," Whetstone concluded. "Not only did this project help us build on our long-standing relationship with Christie, it created a footprint in New York City at one of the most prominent venues in the world and strengthened our relationship with the Madison Square Garden Company and Radio City Music Hall. We are proud of what we accomplished and very excited for future collaborations."
About DWP LIVE
DWP LIVE provides projection mapping, video projection and related technology rentals. Founded in 2007 by Danny Whetstone, a 20-year industry veteran, DWP Live is headquartered in Nashville, Tennessee and maintains an office in Los Angeles, California. DWP Live's expert team of programmers, projectionists and technicians has helped produce shows all over the globe. Some of these events include the 2012 Beyonce's "I Was Here" music video inside the United Nations General Assembly Hall for World Humanitarian Day and the Super Bowl halftime show featuring Madonna in that same year. In 2015, DWP Live helped execute projection mapping pieces for the United Nations Sustainable Development Goals launch, the World Meeting of Families with Pope Francis in Philadelphia and Adele Live in New York City at Radio City Music Hall.
About Christie
Christie Digital Systems USA, Inc. is a global visual and audio technologies company and is a wholly-owned subsidiary of Ushio, Inc., Japan, (JP:6925). Consistently setting the standards by being the first to market some of the world's most advanced projectors and complete system displays, Christie is recognized as one of the most innovative visual technology companies in the world. From retail displays to Hollywood, mission critical command centers to classrooms and training simulators, Christie display solutions and projectors capture the attention of audiences around the world with dynamic and stunning images. Visit http://www.christiedigital.com for more information.
Follow us:
Twitter.com/christiedigital
Facebook.com/christiedigital
Linkedin.com/company/christie-digital-systems
Youtube.com/christiedigital
Instagram.com/christiedigital
#christiedigital
"Christie" is a trademark of Christie Digital Systems USA, Inc., registered in the United States of America and certain other countries.