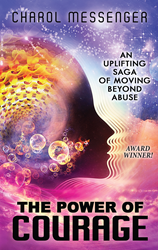 "Harrowing cautionary tale. Inspiring." ~Kirkus Reviews
Denver, Colorado (PRWEB) November 01, 2016
Charol Messenger shares her challenging true story because it can help others, through her mistakes as well as her resolution, because she believes that silence is poison . . . and that truth matters.
—"This tale chronicles a challenging chapter in Messenger's life, when she found herself trapped in and then emerging from a toxic relationship." ~Kirkus Reviews
—"A testament to learning how to trust your own process, discovering your own inner strength and truth and redefining your own personal boundaries despite all odds." ~Anne L. Clark, fine artist, UK
Synopsis: Manson mania in his wild black eyes, he threatened to take a baseball bat to her dog if she didn't ghostwrite his exposé about a serial killer. After a lifetime of inappropriate sexual advances from men in trusted positions, it was time to stand up. After many demoralizing months with this profane man with Manson-wild eyes, who had cajoled her out of her money time after time, she finally found her voice and was at last able to say no more. It was difficult to speak the truth, but silence was poison. This explosive relationship had taken more strength than she'd ever had to muster. Every moment in the clutches of his alcoholic insanity was crisp and vivid, every fragment illuminated as if in a spotlight, because these volatile encounters were completely opposite of her meditative life. Yet when he smacked his fist in front of her face, close in, breath foul, at last she knew she was not weak at all. Her dilemma was how to get out of this. He was in her house and would not leave—but she had a strong weapon, a deep and profound inner spiritual strength.
Defining resilience, Merriam-Webster writes: "The ability to become strong, healthy . . . after something bad happens. The ability of something to return to its original shape after it has been pulled, stretched, pressed, bent."
Charol Messenger has received 11 book awards on seven of her fifteen titles. In 2016, she won three international Book Excellence awards: 1st Place Winner in personal growth for You 2.0; Finalist in new nonfiction for The Power of Courage, which also won Finalist in women's issues in the 2015 USA Best Books awards; plus Finalist in spirituality for Humanity 2.0, which also won Finalist in 2012 in both USA Best Books and CIPA EVVY awards, as well as a 3rd Place EVVY in 2001 for the first edition, The New Humanity. Additional national Finalist awards: The Soul Path and Intuition for Every Day in 2015, Wings of Light in 2012, and I'm Dancing As Fast As I Can in 2005. Messenger published the international newsletter Global Citizen bi-annually 1989-90, subscribed to in twenty nations. In her blog, she has published 600 Higher Self messages. Also an award-winning book editor, she lives in Colorado.
To learn how Messenger survived this narcissist bully, get the true story at https://www.amazon.com/author/charolmessenger. Wholesale at https://www.createspace.com/5819980. See full synopsis, professional reviews, sample chapters at http://www.charolmessenger.com. Follow blog at https://thenewhumanityisnow.wordpress.com. ISBN-13: 978-1518750168, 401 pages. To join in the cause of women embracing their personal power, share #SheSaysNo on Twitter.
Literary Excellence Incorporated introduces the Book Excellence Awards, an international book awards competition dedicated to providing authors from all genres and backgrounds the opportunity to showcase their work on a global platform. The Book Excellence Awards had a very successful inaugural year with hundreds of entrants from around the world. The award-winning titles were chosen based on their design and layout, writing quality and overall marketing appeal with respect to the category the book was entered in [1 winner, 1 finalist each category]. See the winners and finalists at http://www.bookexcellenceaward.com.