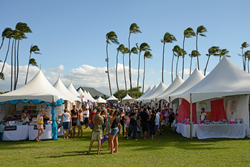 Kahului, Hawaii (PRWEB) October 24, 2016
On November 4 & 5, 2016, Maui County will hold its largest products show, the annual Made in Maui County Festival, at the Maui Arts & Cultural Center in Kahului. Presented by the County of Maui Mayor's Office of Economic Development and the Maui Chamber of Commerce, the event aims to continue its momentum of showcasing hundreds of Made-in-Maui-County products while helping to grow the islands' small businesses.
This November, over 140 product vendors will offer a wide variety of foods, produce, art, crafts, jewelry, fashions, gifts, collectibles and more. Of this total, 40 businesses are new to the event, 16 businesses are from Molokai, and one from Lanai. Additionally, on Saturday, 12 of Maui's popular food trucks will be featured in the Festival's Food Court, offering a myriad of island-inspired menu items.
"Providing opportunities for our local businesses is the main reason why this Festival was created," said Maui County Mayor Alan Arakawa. "Today, this event is not only an annual tradition for shoppers but also it's one of the most sought-after product shows for entrepreneurs. This Festival offers a springboard to take their business to the next level by creating a vehicle to unveil new products, secure new wholesale accounts, and connect with new customers."
Since the Festival's inception in 2014, participating vendors reported a cumulative total of over $716,000 in product sales, over 430 in new wholesale accounts and/or orders closed, and gained over 5,500 leads for future sales and/or wholesale accounts which they acquired during the Festival.
Made in Maui County Festival vendors must meet certain criteria in order to participate in this annual event, including having their business based on the islands of Maui, Molokai or Lanai. Products being offered for sale also had to be made in Maui County and meet a minimum 51% of their value added in Hawaii.
Helping to expand the Festival's impact on local businesses is a new online shoppers resource called the "Made in Maui County Marketplace" or "The Marketplace" – http://www.MadeInMauiCounty.com.
A project of the University of Hawaii College of Tropical Agriculture and Human Resources (CTAHR) in cooperation with the County of Maui Mayor's Office of Economic Development and the Maui Chamber of Commerce; The Marketplace was created to provide local businesses with an opportunity to showcase their Made-in-Maui-County products year-round and to connect with prospective customers, wholesale buyers, and distributors.
"The Marketplace serves as a one-stop, online resource for wholesale buyers and consumers seeking locally made products," said Teena Rasmussen, Director of the County of Maui Mayor's Office of Economic Development. "Not only will visitors on this site discover a wide array of merchandise, but it also provides a directory for the public to connect with our Festival's entrepreneurs throughout the year."
The 2016 Made in Maui County Festival will kickoff on Friday, November 4 with a special "Shoppers Preview" from 1:30 pm to 6 pm. All attendees will receive a free Festival tote bag. Tickets ($35 per person) are available at the Maui Arts & Cultural Center Box Office, (808) 242-SHOW (7469) or MauiArts.org.
On Saturday, November 5, the "Big Festival Day" will be open from 8 am to 4:30 pm. Public admission is $5 at the gate, children 12 and under are free. Saturday's festivities will include product demonstrations, fashion shows, food trucks, and prize drawings. The first 2,000 attendees will also receive a free Festival tote bag.
Event sponsors are: Hawaiian Airlines; Pasha Hawaii; HAWAI`I Magazine; Hawaii State Department of Transportation, Kahului Airport; The Maui News; Maui No Ka Oi Magazine; The Maui Visitor Channel; Pacific Media Group; HMSA; INNOVATE Hawaii; KAOI Radio Group; Alexander & Baldwin, Inc.; American Savings Bank; Courtyard Marriott, Maui Kahului Airport; HHawaii Media; Residence Inn Maui Wailea; Central Pacific Bank; First Hawaiian Bank; Goodfellow Bros., Inc.; HawaiiUSA Federal Credit Union; Marriott's Maui Ocean Club; Matson; Maui Electric Company; Maui Hotel & Lodging Association; Maui Printing Company; State of Hawaii Department of Business, Economic Development & Tourism; Expeditions; Richard Kehoe CPA; RedFin; and Roberts Hawaii.
For more information on the Made in Maui County Festival, visit http://www.MadeInMauiCountyFestival.com, email info(at)MadeInMauiCountyFestival(dot)com or call (808) 270-7710. Follow us on Facebook, Twitter (#MIMCF2016), Instagram, and Pinterest.
To connect with Festival vendors year-round, visit the Made in Maui County Marketplace website at http://www.MadeInMauiCounty.com.