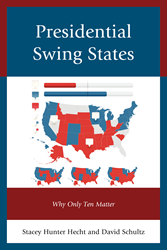 What swing voters do in three swing counties in the three swing states of Florida, North Carolina, and Ohio will tell us who the next president of the United States will be.
St Paul, Minnesota (PRWEB) October 24, 2016
Hamline University Political Science Professor David Schultz contends that the presidential election may be over no later than 7:30 eastern time on election day.
Professor Schultz, author of Presidential Swing States: Why Only Ten Matter, argues that the 2016 election will be decided by a handful of swing voters in about 15 counties located in 10 states. According to Schultz: "There are very few competitive states in presidential elections and among those in 2016, some of them will see their polls close early on election night. What happens in three states in particular–Florida, North Carolina, and Ohio–will tell us who the next president of the United States will be."
According to Schultz, for Donald Trump to win the presidency, he has to win all of the states Mitt Romney won in 2012, which included North Carolina. But in addition, Trump has to win Florida and Ohio to win the presidency. All three of these states have early poll closings, with Florida at 7:00 PM eastern, followed by North Carolina and Ohio at 7:30. Trump effectively needs to win all three of these states to become president. If he loses any of them he probably cannot win, but if he loses two or even all three the race is effectively over.
But Schultz argues that even within these three states there are three counties that can tell us a lot about what will happen, even before election day as early voting occurs. In Florida, whoever wins Hillsborough Country (Tampa area) likely wins Florida. In Ohio, Hamilton County (Cincinnati area) results will predict the winner in Ohio, and in North Carolina, Wake County (Raleigh area) results will determine North Carolina. Generally over the last few elections, whoever wins in those counties wins those states. "Look to see how swing voters go in those swing counties in those three states. They will tell us how the election is breaking in those states and across the country," says Schultz. "If they are breaking for Clinton in early voting and on Election Day, then early on election night we will know whether Trump has any chance of winning. If they do not break for him there then his chances of winning are nearly impossible."
David Schultz is a professor of political science at Hamline University in St Paul, Minnesota. He has taught classes on American government and election law for more than 25 years. Schultz, a three time Fulbright scholar and winner of the Leslie A. Whittington national award for excellence in public affairs teaching, is the author and editor of 30 books and 100 articles on American politics and law.