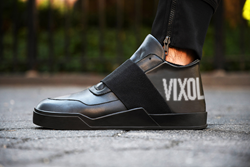 Our vision is to use technology to create fashionable products that change with us.
New York, NY (PRWEB) October 25, 2016
Vixole Inc., a fashion-tech startup based in New York City, is launching its first product, the Vixole Matrix. The Matrix is an electronic sneaker with a built-in monochrome LED display on the back of the shoe. Users can use their smartphones to take a photo of their surroundings, or select from a gallery of designs through the Vixole app, and transfer the design directly to the display on the shoe. Bluetooth connectivity with users' smartphone allows their shoes to integrate with their GPS so that haptic vibrations can guide their step-by-step to their travel destination. The app enables sharing among friends so that users can see how their friends are customizing their own Vixole Matrix shoes.
Matrix is equipped with seven sophisticated sensors that interweave in functions to enable technology-integrated experiences. Built-in motion and sound sensors allow the Matrix e-sneakers to interact with the environment, such as having the shoes listen to the rhythms of your steps to change the patterns of the display. Mobile games can be overlaid with Matrix acting as the controllers, allowing users to tap through games with their feet. App-integration opens up endless possibilities for new features, and Vixole will open up an SDK for developers to add their own unique functions to Matrix e-sneakers.
Vixole Matrix is already being recommended by technology and fashion influencers around the world, and can be pre-ordered on Indiegogo starting at $225. To learn more or pre-order, please visit http://www.vixole.com/indiegogo.
About Vixole:
Vixole is a brand committed to extending the power of footwear, through technology. Our vision is to use technology to create fashionable products that change with us. We are happy to introduce to you Matrix, by Vixole. The world's first customizable e-sneaker, embedded with a flexible LED display and 7 unique sensors, extending an individual's imagination beyond their mind, and onto their feet. Learn more at http://www.vixole.com.