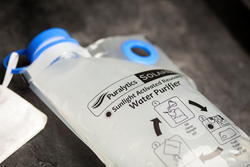 This humanitarian crisis is too urgent and these people are too imperiled for all of us to stand on the sidelines and hope governments and large agencies will fill their needs.
Indianapolis, IN (PRWEB) October 24, 2016
Hurricane Matthew has devastated an already struggling Haiti with fragile infrastructure and has left at least a thousand dead and more homeless without basic supplies like shelter and water. The lack of clean water is feared to be causing cholera outbreaks. Private sector and charitable organizations are partnering together to provide immediate relief. Puralytics, developer of the SolarBag, IMEC (International Medical Equipment Collaborative) a provider and logistics expert of medical equipment, and Water for Empowerment, a 501c3 corporation, are helping to raise funds for the relief effort.
Puralytics, a leading supplier of water purification products into disasters and developing world markets, is cooperating with Water for Empowerment and IMEC to address the need for emergency drinking water. The award-winning SolarBag will be deployed by IMEC into Haiti as disaster relief. IMEC has equipped several hospitals and clinics in Haiti already. Water for Empowerment has donated the first pallet in the relief effort and is seeking contributions through its website.
Mark Owen, Puralytics' Founder said "In a crisis, water can be contaminated with pathogens, chemicals, and even toxic metals; so boiling water, chemical tablets, or simple filtration methods are not sufficient. Supplying bottled water quickly becomes unmanageable. The Solarbag household water purifier allows affected households to simply address the broadest range of contaminants form many months. It is light, compact, and easy to transport and disseminate in emergency situations. We will work closely with IMEC and Water for Empowerment to support this important deployment to the people of Haiti."
Water for Empowerment will assist to raise donations for this deployment, and the organization will also donate existing funds to the first pallet of 600 SolarBags. Steve Henshaw, an Indiana environmental consultant and a director at Water for Empowerment said, "This humanitarian crisis is too urgent and these people are too imperiled for all of us to stand on the sidelines and hope governments and large agencies will fill their needs. We are raising donations, and with Puralytics and IMEC, will respond immediately to those in need."
IMEC is a logistics leader in supplying hospitals, schools, and clinics in 98 countries for the last twenty years. IMEC is the operational arm of this collaboration. Mark Heydenburg, IMEC Director of Medical Technology Worldwide said, "IMEC normally focuses on long term supplies to developing world situations rather than emergency response, but we are well positioned to supply pallets or containers of Solarbags to Haiti in this emergency."
Donations can be made here:
http://water4empowerment.org/donate-clean-water-filtration-systems-for-immediate-deployment-in-haiti/
###
About Puralytics
The world has a finite supply of water that is increasingly contaminated, demands that are constantly increasing, and a growing awareness of the health and manufacturing risks associated with water quality. Puralytics, a water purification equipment company headquartered in Beaverton, Oregon, has developed and patented a photochemical water purification process that uses light energy to activate an advanced nanotechnology photocatalyst. Water is purified through five simultaneous photochemical reactions, breaking down organic compounds (such as petrochemicals and pharmaceuticals), reducing heavy metals (like arsenic, lead, and mercury), and sterilizing bacteria, viruses, and other pathogens without the use of chemical additives. Puralytics' technology has been deployed in the Shield and SolarBag products in over 70 countries and has won many international awards. For more information on Puralytics, see http://www.puralytics.com or email info(at)puralytics.com.
About Water for Empowerment
Water for Empowerment, Inc. is a charitable organization with a goal to assist the world community in securing and maintaining clean water for communities exposed to water borne pathogens. The Indianapolis based charity accomplishes sustainability by building B2B relationship with other charitable organizations and private sector businesses working in research and development for clean water technologies. For more information on Water for Empowerment, see http://water4empowerment.org/
About IMEC America
IMEC's mission is to transform impoverished communities by providing the equipment, tools and supplies needed to advance the medical, agricultural and educational services in communities in the developing world. For more information on http://imecamerica.org/