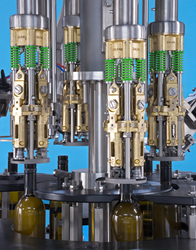 ATHENS, GA (PRWEB) October 24, 2016
Zalkin in the Americas, formerly Fowler Products, showcases at Pack Expo in Chicago, November 6-9, a range of innovative, competitive, and versatile Zalkin capping solutions that deliver greater efficiencies on bottling and capping lines.(Zalkin Pack Expo Booth S-3720)
Versatile Capping Turret
Zalkin, powered by Pro Mach, introduces a capping turret with the unique ability to run both screw and ROPP caps, giving customers the versatility of two machines in one. This solution is designed to lower customers' overall capital costs and to improve line efficiencies. Switching from one type of capping head to another is facilitated by Zalkin quick release adapters. A 14-head turret, with both screw and ROPP capping heads, will be displayed at the show.
Cost Effective Single Head Capper – TM300
Zalkin also introduces at Pack Expo the TM300 single head capper that breaks new ground in regards to price per performance and flexibility, for an entry-level capper. The TM300 can apply one, two, or three different types of caps: screw, ROPP, and push on – depending on the model. The TM300 was designed to provide customers a single cost-effective machine capable of satisfying most, if not all, capping needs at up to 50 units per minute. At the show, a stainless steel TM300 with hysteresis screw head will be on display.
Additional Show Displays
Zalkin was one of the first companies to successfully bring to market high speed aluminum on aluminum ROPP solutions, and today, it has equipment on a number of lines in the soft drink and wine and beer industries. Zalkin will demonstrate ROPP aluminum on aluminum capping at Pack Expo. The showcase of flexibility and versatility continues at the Zalkin booth with the company's model CA 10/480, which will be set up to run seven different bottles and three different cap sizes. A range of capping heads in a static display will also be in the booth.
The streamlined Zalkin organization
"Why make the move to create a single global brand and have Fowler Products become Zalkin in the Americas?" said Randy Uebler, Vice President and General Manager of Zalkin in the Americas. "A one-word answer suffices – competitiveness. The Zalkin name is well-known and highly respected worldwide as a leader in capping technology. The ability to remain competitive and to add value to our customers will be improved by leveraging internal efficiencies and continuously improving cost structures."
The new, unified business shares a common ERP system, interconnected engineering, clearly defined and supported sales regions, cohesive marketing programs, streamlined management structure, and many other attributes. With these synergies, Uebler expects their new Zalkin organization will be much better suited for working with multi-national corporations without sacrificing our ability to serve smaller customers.
The global Zalkin structure unlocks new levels of product support innovation from the company's wide-ranging team. Uebler explains, "Our regionally based customer support network places qualified field service technicians in areas that matter – close to our customers. In the Americas region, for example, we have technical resources based in the United States, Mexico, and Brazil with plans to add resources to other areas within the region."
For more information about Zalkin capping solutions, call 877-549-3301, and visit http://www.zalkincapping.com. Be sure to visit the Zalkin Booth # S-3720 at Pack Expo.
About Zalkin Products
Zalkin manufactures high-speed capping machinery and cap sorting and feeding systems. Zalkin's quality equipment serves the global beverage, food, pharmaceutical, chemical, personal care, household goods, and distilled spirits industries. Zalkin in the Americas is located in Athens, Georgia. http://www.zalkincapping.com.
About Pro Mach
Pro Mach is a leading provider of integrated packaging and processing products and solutions for food, beverage, consumer goods, pharmaceutical, and other diverse companies. Through multiple brands, Pro Mach provides product packaging and processing equipment, PMMI certified trainers, installation, parts, and service in Bottling & Capping, Primary Packaging, Pharmaceutical Packaging, Flexible Packaging, Material Handling, Labeling & Coding, and End of Line, as well as Integrated Solutions for complete packaging lines.
Pro Mach has a diverse customer base, from Fortune 500 companies to smaller, privately held businesses worldwide, which depend on reliable, flexible, technologically advanced equipment and integrated solutions. Pro Mach is headquartered near Cincinnati, Ohio, with manufacturing facilities and offices throughout the United States, Canada, Mexico, Europe, United Arab Emirates, and China. For more information about Pro Mach, please visit http://www.ProMachInc.com.