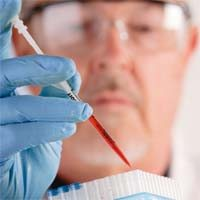 Detection of both soluble factors can increase the reliable diagnosis of malignant pleural mesothelioma.
Raleigh, NC (PRWEB) October 25, 2016
Researchers in Heidelberg, Germany say a protein called glycodelin could help cancer doctors diagnose mesothelioma earlier and with greater accuracy. Surviving Mesothelioma has just published an article on the new research. Click here to read it now.
Scientists at the University of Heidelberg measured glycodelin levels in the blood serum of people with both malignant and nonmalignant lung diseases, including malignant pleural mesothelioma. They found that people with malignant disease had higher glycodelin levels. Adding a second biomarkers called SMRP made it possible to distinguish mesothelioma from lung cancer.
"A comparison of SMRP and glycodelin serum measurement in a large patient cohort demonstrated that the detection of both soluble factors can increase the reliable diagnosis of malignant pleural mesothelioma," concludes study author Dr. Marc Schneider.
The report, published in the journal Oncotarget, also found that glycodelin levels tended to go down in patients whose tumors were responding well to therapy.
"Given that accurate diagnosis has a direct bearing on cancer survival, we are hopeful that glycodelin will prove to be the effective mesothelioma biomarker that it appears to be," says Alex Strauss, Managing Editor of Surviving Mesothelioma.
For all the details on the new biomarker study and its potential impact on mesothelioma patients, see New Marker for Mesothelioma Diagnosis and Follow-up, available now on the Surviving Mesothelioma website.
Schneider, M, et al, "Glycodelin is a potential novel follow-up biomarker for malignant pleural mesothelioma", October 4, 2016, Oncotarget, http://www.impactjournals.com/oncotarget/index.php?journal=oncotarget&page=article&op=view&path%5B%5D=12474&path%5B%5D=39505
For nearly ten years, Surviving Mesothelioma has brought readers the most important and ground-breaking news on the causes, diagnosis and treatment of mesothelioma. All Surviving Mesothelioma news is gathered and reported directly from the peer-reviewed medical literature. Written for patients and their loved ones, Surviving Mesothelioma news helps families make more informed decisions.