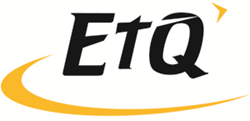 EtQ Mobility for our Reliance QEHSS Suite empowers companies to untie its workforce so it can move freely around the work environment to observe and record activities to evaluate safe and acceptable work practices
Farmingdale, New York (PRWEB) October 26, 2016
EtQ is pleased to announce that it will be showcasing its proven mobile platform for EHS and Sustainability at the NAEM EHS Management Forum in booth #308. EtQ is also a Gold Sponsor at the Forum, which will be held from October 26-28 in Denver, Colorado.
EtQ launched its mobile capability in 2013. Since then, EtQ Reliance for EHS and Sustainability has been helping organizations reduce risk, ensure compliance and improve business performance—even while on the go. EtQ's mobile apps engage the workforce in daily activities throughout the workplace while providing executive visibility into quality, EHS, risk and sustainability performance across the entire company.
"Mobile apps that support core EH&S processes such as incident reporting and audit are top of mind for customers seeking to improve their EH&S and sustainability metrics," stated David Metcalfe, CEO of independent research firm Verdantix. "Our analysis indicates that EtQ's investments in their offline mobile applications amply respond to what customers require in terms of connectivity and flexibility."
"For years, business process automation has been lagging in the QEHSS function because workers have been tied to their desktops with traditional personal computers," Morgan Palmer, CTO of ETQ. "EtQ Mobility for our Reliance QEHSS Suite empowers companies to untie its workforce so it can move freely around the work environment to observe and record activities to evaluate safe and acceptable work practices. EtQ Mobile supports the current paradigm shift away from static QEHSS compliance to dynamic QEHSS performance management."
EtQ's Mobile Platform for Reliance is available for iOS and Android tablets and can be downloaded directly from either the Apple App Store or Google Play.
For more information on EtQ's mobile EHS and Sustainability solutions, visit us in booth #308 or on the Web at http://www.etq.com.
About the NAEM EHS Management Forum
The EHS Management Forum is the largest annual gathering of EHS and sustainability managers, directors and vice presidents. With two days of peer-led interactive sessions and keynote presentations, this is the premier event dedicated to showcasing best practices in EHS and sustainability management.
About EtQ
EtQ is the leading Quality, EHS, Operational Risk and Compliance management software provider for identifying, mitigating and preventing high-risk events through integration, automation and collaboration. At the core of EtQ's framework is a compliance management platform that enables organizations to implement best-in-class compliance processes configured to meet their existing processes, create new compliance processes and automate and control their compliance ecosystem. EtQ's product lineup includes traqpath™ for individual compliance users, VERSE Solutions™ for small to medium sized businesses and Reliance™ for enterprise organizations. EtQ was founded in 1992 and has main offices located in the U.S. and Europe. To learn more about EtQ and its various product offerings, visit http://www.etq.com or blog.etq.com.
EtQ is a trademark of EtQ Management Consultants, Inc. All other product names and company names are trademarks or registered trademarks of their respective owners.