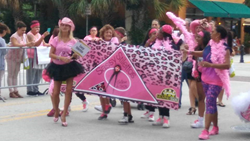 We could not pass on the opportunity to support breast Cancer Research while providing Local and Long Distance Moving Services
Fort Lauderdale, Florida (PRWEB) October 24, 2016
In their pursuit to become household brands offering customers with the self-assurance they need when moving local and long distance, and also to be involved in community activities all-around the country, Moving Squad has partnered with Colonial Van Lines to increased their involvement in community concentrated activities like supporting breast cancer research through donations made to the Glam-a-Thon organization.
Supporting a Good Cause Through Donations
With their combined efforts to raise money and actively participate in the Glam-A-Thon, Moving Squad and Colonial Van Lines showed how breast cancer research is close to their heart. These companies hires and employs many women, some in executive positions, providing excellent relocation services at different levels to their South Florida clients, and to the entire nation. Being an equal opportunity employer favoring equal pay for women, "we could not pass on the opportunity to support a great cause and an organization doing excellent work in this fight against breast cancer" said the CEO of both organizations. Their moving companies' focus is not only on helping moving customers — no matter whether it's with residential or commercial business relocation — but also to be engaged in their communities and help support causes that are cherished by their customers, mothers, sisters, and friends.
Raising Money to Help Support The Good Cause
The company's CEO reported that almost the entire company participated in a raffle while wearing pink and participated in a fund raising activity at small donations of $5.00 each. They were able to raise a total of $1700 with matching donation from the company's owner; all to benefit the Glam-a-Thon held in Fort-Lauderdale this October 10th.
For more information about Moving Squad, visit their website at http://www.movingsquad.com
For more information about Colonial Van Lines, visit http://www.colonialvanlines.com