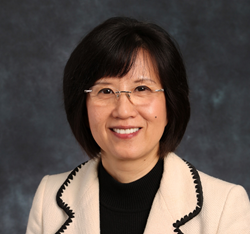 We are excited to have someone with Dr. Saldana's experience and knowledge join our team.
Tampa, FL (PRWEB) October 24, 2016
Florida Hospital has named Dr. Hui Jiang-Saldana as the Regional Vice President of Operational Excellence for the Florida Hospital West Florida Region. Dr. Saldana brings extensive experience in executive leadership and clinical practice, as well as a successful track record in managing operational efficiency and effectiveness to her new role, which officially begins December 5, 2016.
Dr. Saldana will oversee key operational units to achieve standardization and adopt best practices across the region. This leadership role will keep the regional health system on the forefront of providing quality care by proactively responding to the demands for value-added services for patients, a vital element in today's health care arena.
"We are excited to have someone with Dr. Saldana's experience and knowledge join our team. She has a proven track record of yielding positive outcomes in the areas of operations, clinical resource management and patient experience. Her leadership, discipline and creativity will help us achieve our regional goals and keep our community on the leading edge of changes in healthcare," said Dima Didenko, Florida Hospital West Florida Region SVP & Chief Financial Officer.
Dr. Saldana was most recently the Chief Operating Officer for Florida Hospital Tampa, a 513-bed tertiary hospital, specializing in cardiovascular medicine, neuroscience, orthopedics, women's services, pediatrics, oncology, general surgery and sleep medicine. As part of the Florida Hospital Tampa leadership team, Dr. Saldana improved key areas including: patient safety and experience, operational efficiency and clinical outcomes, and both employee and physician satisfaction.
"Under Dr. Saldana's leadership, every aspect of our operations has improved during a time of significant growth at Florida Hospital Tampa," said Brian Adams, Florida Hospital Tampa President & CEO.
"I am honored to be joining the Florida Hospital West Florida Region team whose mission is to support Florida Hospitals to attain service excellence supporting our organization's mission and values. I look forward to serving in this pivotal leadership role by engaging in all levels of the organization and community to help achieve optimal outcomes," said Dr. Saldana.
Prior to her leadership role at Florida Hospital Tampa, Dr. Saldana held several executive leadership roles within Mercy Health, the largest health system in the state of Ohio. Dr. Saldana served as Vice President of Regional Supply Chain Management, Divisional Vice President of Logistics and Clinical Support Service of Cincinnati, and as the Corporate Director of Clinical Efficiency for Mercy Health System. Dr. Saldana served as an attending physician and instructor specializing in Obstetrics & Gynecological Practice at FuDan University Hospital in Shanghai, China prior to her research fellowship in Turku University Medical Center in Finland. Dr. Saldana also served as a volunteer physician in rural areas to help those in need.
Dr. Saldana received MBA and MHSA degrees from Xavier University. She earned her medical degree, graduating from Shanghai Medical College of Fudan University in China. She is a Fellow of American College of Healthcare Executives and holds a number of certificates and professional association memberships. Dr. Saldana is an advocate for several local community and national charitable organizations such as the American Heart Association and United Way.
About Florida Hospital West Florida Region
The Florida Hospital West Florida Region is a not-for-profit 1,295-bed hospital system composed of 9 hospitals including Florida Hospital Carrollwood, Florida Hospital at Connerton Long Term Acute Care, Florida Hospital North Pinellas, Florida Hospital Tampa/Florida Hospital Pepin Heart Institute, Florida Hospital Wesley Chapel, Florida Hospital Zephyrhills, Florida Hospital Heartland Medical Center Sebring, Florida Hospital Heartland Medical Center Lake Placid and Florida Hospital Wauchula. Part of the Adventist Health System, Florida Hospital is a leading health network comprised of 26 hospitals throughout the state. For more information, visit http://www.FloridaHospital.com.