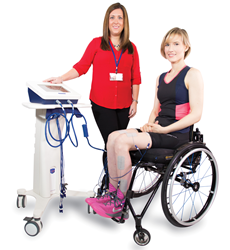 It is the first truly practical FES rehabilitation system of this kind that I have seen.
Baltimore, MD (PRWEB) October 26, 2016
Restorative Therapies, Inc., advances its new era in physical and occupational therapy systems for neurological injury and paralysis with CE mark and Canadian medical device licensing of the company's new Xcite Functional Electrical Stimulation (FES) rehabilitation system.
Restorative Therapies is the designer of medical devices providing clinic and in-home restoration therapy. Xcite is the next in the series of FES powered therapy systems that started with the company's hugely successful RT300 FES cycle.
FES is a physical and occupational therapy rehabilitation modality used to evoke functional movements and exercise not otherwise possible for individuals with a neurological impairment such as a spinal cord injury, stroke, multiple sclerosis or cerebral palsy.
The CE mark demonstrates that Xcite meets all the requirements of the European Medical Device Directive and facilitates its sale in numerous markets outside the USA. The Canadian medical device license provides approval to market Xcite in Canada.
The new Xcite FES system delivers up to 12 channels of electrical stimulation to nerves which activate core, leg and arm muscles. Easy to use sequenced stimulation evokes functional movement enabling a patient's paralyzed or weak muscles to move through dynamic movement patterns and specific functional tasks.
"Xcite is a physical and occupational therapy system which provides a library of coordinated multichannel FES therapies for people with neurological impairments" said Prof. David Ditor of Brock University, in Ontario, Canada, "After being involved in the development trials we are excited to see the system obtain the CE mark and Canadian approval making the system more widely available".
"It is the first truly practical FES rehabilitation system of this kind that I have seen. In addition to combining several valuable neuro-rehabilitation interventions, functional electrical stimulation, mass practice and neuromuscular re-education, Xcite is portable and easy enough to use that it could be used in the patient's home," said Prof. Susan Harkema of the Kentucky Spinal Cord Injury Research Center, University of Louisville. "In the context of rehabilitation influencing neural plasticity as a means for neural restoration, training in the home setting is an essential component of progress and I see Xcite as a great tool in achieving this," concludes Harkema.
"Xcite system inherits many of the popular RT300 FES cycle's great features including personalized muscle selection, secure Internet connectivity and physical therapy clinic ease of use." says Andrew Barriskill, CEO of Restorative Therapies. "We are excited to have obtained CE marking and Canadian approval for this product which will allow us to market the system in Canada and many other international markets."
Xcite is the latest result of Restorative Therapies commitment to ongoing development of FES powered therapy systems designed to help people with neurological impairments maximize their recovery potential.
About Restorative Therapies
Restorative Therapies mission is to help people with a neurological impairment or in critical care achieve their full recovery potential. Restorative Therapies combines activity-based physical therapy and Functional Electrical Stimulation as a rehabilitation therapy for immobility associated with paralysis such as stroke, multiple sclerosis and spinal cord injury or for patients in critical care
Restorative Therapies is a privately held company headquartered in Baltimore.
To learn more about Restorative Therapies please visit us at http://www.restorative-therapies.com
Facebook: http://www.facebook.com/restorative.therapies.inc
Twitter: @rtifes
YouTube: http://www.youtube.com/user/restothera
Contact:
Judy Kline, Director of Sales and Marketing
Phone: 800 6099166 x301
E-mail: jkline(at)restorative-therapies.com