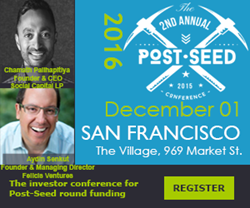 You have your life-cycle investors and your option buying investors. In between those two models exists this spot that post-seed fits into, which is where Bullpen lives.— Paul Martino, Bullpen Capital
San Francisco, CA (PRWEB) November 01, 2016
Keynote speakers at the 2016 Post Seed Conference include: Social Capital Founder Chamath Palihapitiya, Felicis Ventures Founder Aydin Senkut, Twilio Founder & CEO Jeff Lawson, Giants Co-Owner Dan Scheinman, and Byron Deeter Partner at Bessemer Ventures.
Each year, Vator, Bullpen Capital, and Haystack gather successful startup founders who've raised multiple rounds with the top minds in venture capital to come together in an honest discussion about how the game is played.
WHAT: Post Seed 2016 Conference
DATE: Dec. 1, 2016
PLACE: The Village, San Francisco, CA
TIME: 8:00am-6:00pm
PRICE: Day-Of Walk-Ins: $725. Get tickets here: http://bit.ly/postseed
CONTACT: RSVP email press(at)vator(dot)tv
Speakers and topics from the conference include:

How Are Early-Stage VCs Thinking About This Gap, and Navigating Through It? Speakers: Chamath Palihapitiya, Founder of Social Capital, and Aydin Senkut, Founder of Felicis Ventures.
How to Win at Baseball, Cisco and Seed Investing: Dan Scheinman, angel investor and Co-Owner of the SF Giants to sit down with Paul Martino of Bullpen Capital.
Investing in Categories No One is Paying Attention To: A conversation with Michael Ma, General Partner at Liquid 2 Ventures, Dave Peterson, Co-Founder and Partner at Play Bigger Advisors, Christine Herron, Director at Intel Capital, Chris Paik, Partner at Thrive Capital, and Aeref Hilaly, Partner at Sequoia Capital.
Getting to the Super-Sized A Round and Liquidity: Winter Mead, VP at Sapphire Ventures, Josh Elman, Partner at Greylock, Shruti Gandhi, Partner at Array Ventures, Brenda Smith, President of CV Brokerage, and Brian O'Malley, Partner at Accel Partners discuss.
From Seed to IPO: Jeff Lawson, Founder and CEO of Twilio, talks to Byron Deeter, Partner at Bessemer Venture Partners.
Magic Box Paradigm - An Unconventional Approach to M&A: Ezra Roizen, Founder, ADVSR sits down with Alastair Goldfisher, Editor of Venture Capital Journal & PE Hub.
We expect tickets for this day-long event will sell out quickly. Mark your calendar for December 1st in San Francisco and REGISTER HERE!
Want more info about what Post Seed is all about? Check out the website.
And check out snippets from our events from prior years.
Interested in covering? Email: press(at)vator(dot)tv If you want to interview our killer lineup of speakers, we can arrange it for you based on the speaker's availability.
We hope to see you at Post Seed!