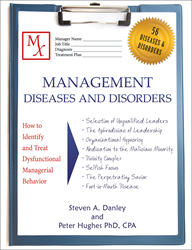 SAN CLEMENTE, Calif. (PRWEB) October 31, 2016
No organization is immune from the several dysfunctional behaviors that shape managerial decisions and negatively impact employee motivation. Left unchecked, these behaviors can lead to stagnation, divisive unrest or a loss of top talent to competitors.
"Management Diseases and Disorders: How to Identify and Treat Dysfunctional Managerial Behavior" consolidates 56 personality, system and culture-based dysfunctions that help organizational leaders recognize and make the changes that can greatly improve the company's overall health and employee satisfaction.
"Management and leadership issues are just as significant as physical maladies," authors Steven A. Danley and Peter Hughes, PhD, said. "It is imperative that we understand the diseases and disorders of management if we ever hope to heal and improve our organizational and personal health."
Some of the more common problems the authors identified include management self-interest (over the company or employees), lack of courage, unethical behavior, and selecting unqualified leaders.
"Management Diseases and Disorders" provides the initial examination to formally recognize an unhealthy business condition and then identify, diagnose and suggest cures for these maladies.
"Management Diseases and Disorders"
By Steven A. Danley and Peter Hughes, PhD, CPA
ISBN: 978-1-4834-5456-6 (sc)
Available at Lulu Press, Amazon, and Barnes&Noble
About the authors
Steven A. Danley has served as a key executive in human resources and performance auditing, and specializes in organizational assessment and rehabilitation. In 2012, his performance audit team was selected as a national "Bright Idea" by Harvard/Kennedy School/Ash Center. He lectures at UC Irvine and was a 30-year NCAA and high school basketball referee.
Peter Hughes, PhD, has worked in executive auditing and financial positions for the NASA Jet Propulsion Laboratory, Caltech, CBS, University of Oregon, and Los Angeles and Orange counties. He was voted CPA of the Year for Local Government Agencies by the American Institute of Certified Public Accountants.
###
Review Copies & Interview Requests:
LAVIDGE - Phoenix
Courtney Coombes
480-998-2600 x 612
ccoombes(at)lavidge(dot)com
General Inquiries:
LAVIDGE - Phoenix
Maggie Driver
480-998-2600 x 584
mdriver(at)lavidge(dot)com