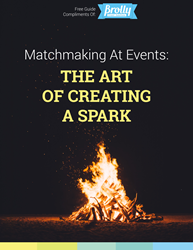 "If you can help your attendees achieve their goals, you can almost guarantee they will be coming back year after year."
Denver, Colorado (PRWEB) October 25, 2016
As part of an organization-wide effort to become an invaluable resource for the events industry, Brolly Event Solutions has released a guide to matchmaking at events. This guide is available for free on the company website and centers on the use of data capture technology and analysis in matchmaking at events of all kinds. Readers will receive included tear-out worksheets and in-depth best practices to use while implementing matchmaking at their events. At the core of "Matchmaking At Events: The Art of Creating a Spark" lies the belief that event organizers who proactively help attendees and exhibitors accomplish their goals set their event up for exponential success.
Matchmaking has become an increasingly hot topic in the events industry, as industry professionals seek ways to add incremental value in an increasingly competitive landscape. The process of matchmaking involves collecting key data on all event participants, identifying stated goals, key needs, and personality; organizers then can make data-based recommendations to participants about: booths to visit, sessions to attend and meet-ups to participate in. Beyond just a trend, matchmaking has proven to be a key way for organizers to demonstrate ROI and prove event value for attendees, exhibitors and investors. Matchmaking processes as well as ROI measurement are all discussed at length in the guide.
Brolly Event Solutions is most well known for their event commerce and monetization tools, but have been using matchmaking techniques at owned and client events for the past three years, most notably at their annual MUG Conference where matchmaking has been used to create productive "Networking With Purpose" roundtables. They have identified matchmaking as a key area for the event technology sector and are now using their proprietary data analysis tools to explore the potential of matchmaking at events.