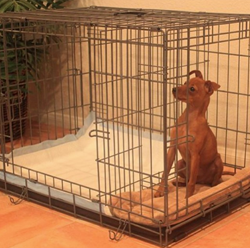 Displaying our product at this expo will give us the opportunity to offer a solution to dog owners and shelter workers that are struggling with puppy potty training
Temecula, California (PRWEB) October 25, 2016
Modern Puppies will be making its trade show debut at the SoCal Pet Expo at the Fairplex in Pomona, CA on January 7th and 8th. The company will be showcasing its signature indoor potty training system, the Potty Training Puppy Apartment, at the event. The event will consist of a number of exhibitors including dog owners, animal shelter owners and a wide network within the pet community.
While at the expo, Modern Puppies will have the opportunity to meet and network with the pet community and showcase their signature product, the Potty Training Puppy Apartment (PTPA). The PTPA allows dogs to "use the potty" inside the home in a safe, warm environment, similar to how humans and cats do. With the PTPA, dog owners won't have to worry about letting their dogs out during harsh or dangerous weather conditions or while they're very young and unvaccinated - a period of time when veterinarians advise puppy owners not to allow their puppy outdoors.
The SoCal Pet Expo will bring more visibility to the PTPA, which the company's president, Anthony DiPaolo, hopes to bring to animal shelters in the near future. Since its development, the PTPA has saved many dogs from being taken to shelters due to potty training issues. Decreasing the number of dogs taken to the shelter also leads to the decrease of the number of dogs that are put down each year in a shelter.
"We can't wait to meet the wonderful dog community at the show and share the Potty Training Puppy Apartment with them," said Modern Puppies founder and president Anthony DiPaolo. "We are confident that dog owners and animal shelter workers will embrace our system. Our goal with the PTPA is to increase pet adoptions and decrease the number of dogs in shelters. Displaying our product at this expo will give us the opportunity to offer a solution to dog owners and shelter workers that are struggling with puppy potty training."
The SoCal Pet Expo will be the first but not the last for Modern Puppies; The company will also be showcasing at the San Diego Pet Expo taking place at the Del Mar Fairgrounds on February 18th and 19th.
About Modern Puppies
Founded 6 years ago by its current president, Anthony DiPaolo, Modern Puppies' mission is simple: to bring an easy solution to potty training puppies. With a simple solution to potty training, Modern Puppies ultimately hopes to increase adoption rates. The system works for older dogs as well as it does for puppies. Their products include the PTPA, as well as potty pads, beds, playpens, etc. all designed to help potty train dogs.