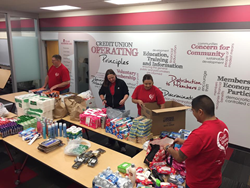 Dallas, TX (PRWEB) October 26, 2016
Resource One Credit Union's Leadership Team celebrated International Credit Union Day by giving back to the community. Their initiative was to help out the less fortunate by delivering lunches and care packages.
In order to fund their project the R1 Leadership Team challenged all of Resource One's employees to donate and raise money for the supplies they would need. The R1 Leadership Team raised over $1,100 in one day for their initiative.
The team was able to deliver the lunches and care packages to over 200 people in need. "Our group chose this project primarily because it holds true to the espoused values that we hold near and dear to our hearts. It's all about people helping people…the very cornerstone of our existence," said Phillip Crocker creator of the Resource One Leadership Development Program.
As part of an ongoing initiative they are also collecting new or gently used coats, blankets, and jackets that will be donated to a local charity in Dallas. Donations can be dropped off at any Resource One Credit Union located in Dallas until November 18th.
To find out more about Resource One's branch locations and upcoming events, please visit http://www.r1cu.org.
About Resource One Credit Union
Resource One Credit Union was originally chartered as Sears Dallas Employees Federal Credit Union in 1936. Over time, the increased demand for more locations and additional products and services prompted the expansion of our product lines and field of membership. Today Resource One proudly serves as a not-for-profit financial institution for the communities of Dallas and Harris counties. Resource One has 11 convenient locations to serve our over 55,000 members. Visit Resource One Credit Union's homepage at http://www.r1cu.org.