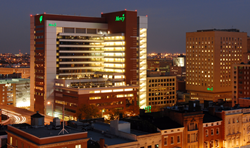 Baltimore, MD (PRWEB) October 26, 2016
A total of 28 Mercy Medical Center physicians were recognized in Baltimore magazine's November 2016 "Top Docs" issue, representing 23 separate specialties, ranging from breast cancer surgery to varicose veins. They are (as listed in the magazine):
Dr. Kelly Alexander, General Surgery
Dr. Mark Applefeld, Cardiology: Interventional
Dr. Fermin Barrueto, Urogynecology
Dr. John Campbell, Orthopedic Surgery: Foot & Ankle
Dr. Bernard W. Chang, Plastic Surgery: Reconstructive and Plastic Surgery: Breast
Dr. Teresa Diaz-Montes, Gynecologic Oncology
Dr. Susan Dulkerian, Neonatology
Dr. R. Mark Ellerkmann, Gynecology: General
Dr. J. Lawrence Fitzpatrick, General Surgery
Dr. Neil B. Friedman, Breast Surgery and Oncology: Breast
Dr. Scott Huber, Gastroenterology
Dr. Dwight D. Im, Gynecologic Oncology
Dr. Maria Jacobs, Radiation Oncology
Dr. Clifford Jeng, Orthopedic Surgery: Foot & Ankle
Dr. Peter Ledakis, Oncology: General
Dr. Paul Lucas, Surgery for Chronic Venous Disease/Varicose Veins
Dr. Lynn Ludmer, Rheumatology
Dr. David Maine, Pain Management
Dr. Andrea Marx, Rheumatology
Dr. Albert Polito, Pulmonary
Dr. Neil B. Rosenshein, Gynecologic Oncology
Dr. John Salkeld, Radiology: Nuclear Medicine
Dr. Armando Sardi, Surgical Oncology
Dr. David Sill, Interventional Radiology
Dr. Amish Sura, Cardiology: Interventional
Dr. Thomas Swope, General Surgery
Dr. Debra Vachon, ColoRectal
Dr. Linda C. Wang, Dermatology (Medical)
Mercy's Dr. Maria C.E. Jacobs, Director of Radiation Oncology, was among several doctors photographed and profiled for the special edition.
Dr. Jacobs works in close collaboration with the cancer surgeons, including fellow Baltimore magazine "Top Doc" honoree, Dr. Neil B. Friedman, Director, The Hoffberger Breast Center to coordinate post surgical treatment for breast cancer patients.
Dr. Jacobs and Dr. Friedman were the first team of doctors in the state of Maryland to use Intraoperative Radiotherapy (IORT), a state-of-the-art technology that allows patients to get treated in one single radiation therapy session – a notable advantage over the many multiple visits required prior to IORT.
Each Mercy physician was recognized as among the best in their respective fields. Other honorees including Dr. Dwight Im, Dwight D. Im, M.D., FACOG, renowned gynecologic cancer surgeon and leader of Mercy Medical Center's prestigious gynecology and robotic surgery programs, and been named a "Top Doctor" for 2016 earlier this year by Castle Connolly Medical Ltd.; Armando Sardi, M.D., FACS, respected and renowned Surgical Oncologist who has been honored as a Top Doc in Baltimore magazine multiple times, serves as Medical Director of The Institute for Cancer Care at Mercy and as Chief of Division of Surgical Oncology at Mercy and recognized internationally for his work in the field of Hyperthermic Intraperitoneal Chemotherapy (HIPEC) to treat late stage, complex cancers of the abdominal region; and Teresa P. Diaz-Montes, M.D., MPH, FACOG, Associate Director of The Lya Segall Ovarian Cancer Institute, the first center in the region specifically designed for the treatment of ovarian cancer.
Mercy Medical Center in Baltimore, MD, is a 142-year-old university affiliated medical facility named a "Top Hospital" by U.S. News and World Report with a national reputation for women's health care. For more information about Mercy, visit Mercy online at http://www.mdmercy.com; MDMercyMedia on FACEBOOK and TWITTER; or call 1-800-MD-MERCY.