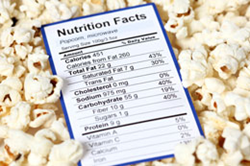 There are lots of great ways to draw customers' attention to popcorn products this October and beyond.
Denver, CO. (PRWEB) October 25, 2016
A Special Month
Popcorn is a great snack food, a universally beloved staple at home, out at the movies, at sporting events - anywhere. Food producers that sell popcorn, either for popping or ready to eat, may keep the same marketing and packaging strategy all year. After all, there's always demand for popcorn. However, October has been set aside to celebrate this wonderful snack, which makes it a great time to get creative with custom labels or stickers that acknowledge the event and encourage shoppers to eat more popcorn.
New labeling strategies accomplished via Lightning Labels' offerings can add a special spark to product lines this fall.
Time to Think About Labels
Brands that have wrapped their popcorn products in the same labels for years may want to use October as a launching pad for a whole new strategy. Popcorn labels can be modified to contain special recipes that suggest new and exciting ways to season popcorn, or sweet treats that can be made with popcorn as an ingredient.
It may also be worthwhile to take this chance to update nutritional information panels to stay abreast of all regulations, present and future. Companies that haven't given their packaging a revamp in a while can plan ahead for the next round of changes and updates to ingredient listing and daily percentage values. Brands that offer low-sodium or similarly health-conscious options might emphasize those virtues, remembering to comply with industry rules on health promises.
Special Promotions
October, set aside as it is to celebrate popcorn, is also a great time to launch a new and distinctive flavor. Popcorn stickers or distinctive labels can let buyers know they're getting something special and new. These can be especially persuasive if they incorporate high-quality, colorful imagery. Popcorn is a fun snack, one that evokes memories of sports games and movies. These are great images to conjure with custom stickers and Popcorn Poppin' Month promotional materials.
"There are lots of great ways to draw customers' attention to popcorn products this October and beyond," says Lightning Labels' Director of Business Development, AnneMarie Campbell. "Vibrant new labels and stickers will serve this purpose well."
Still Time to Order
October is passing by, but that doesn't mean it's too late to launch a new popcorn labeling strategy within the month. Lightning Labels uses all-digital printing processes to ensure its products are in customers' hands in a matter of days, not weeks or months. Brands of all sizes can take advantage of these offerings, as digital printing enables reasonable pricing for smaller orders, something that isn't possible with legacy printing techniques.
Brands interested in adding new flair to their popcorn labels or other related packaging can work with Lightning Labels today, secure in the knowledge that their orders will ship quickly and affordably. By using domestic, U.S.-based facilities instead of outsourcing overseas, Lightning Labels keeps costs and shipping times down.
Though popcorn is a beloved and fun snack year-round, there is a best time to promote it. That time is now, in October. Brands that seize this opportunity may gain a leg-up on competitors that don't shake up their labeling strategies.
About Lightning Labels:
Lightning Labels uses state-of-the-art printing technology to provide affordable, full-color custom labels and custom stickers of all shapes and sizes. From small orders for individuals to the bulk needs of big businesses, Lightning Labels is equipped to handle and fulfill custom label and sticker projects of all types. Best of all, like the name implies, Lightning Labels provides a quick turnaround for every customer's labeling needs. Uses for Lightning Labels' custom product labels and custom stickers include food packaging and organic food labels, wine and beverage labels, bath and body labels, and nutraceutical products, such as vitamins, essentials oils, and herbal remedies, as well as event stickers, adhesive window stickers and more. Lightning Labels strongly supports the development of environmentally friendly printing materials and carries EarthFirst PLA, a new kind of green label material made from corn instead of petroleum. While operating as a high-tech printer, Lightning Labels prides itself on its personalized customer service. Lightning Labels provides one stop shopping for all of your custom label needs. For more information and to place orders online, visit LightningLabels.com. For the latest in packaging news and labeling promotional offers, find Lightning Labels on Twitter (@LightningLabels), Facebook, Pinterest, Google+ and LinkedIn.