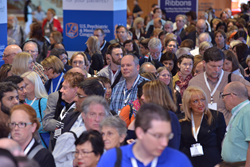 San Antonio, TX (PRWEB) October 24, 2016
Providing a unique forum for mental health professionals to learn about the latest research, approaches and treatments in psychopharmacology, psychotherapy, and wellness, the 29th annual Psych Congress attracted a record number of clinicians to its annual meeting. Over the course of four days, October 21-24, more than 2,300 psychiatrists, physician assistants, nurse practitioners, psychologists, primary care physicians and other mental health professionals from 50 states and 15 countries, attended the conference in San Antonio, Texas.
Education that informed and inspired
Participants took part in more than 50 high-level practical education sessions covering a range of topics including depression and schizophrenia, the latest scientific research relevant to the treatment of mental health, emerging treatments and tools such as TMS, and social issues and challenges facing mental health professionals. Highlights included:

A daylong pre-conference explored the psychopharmacology of treating various mental health conditions, as well as non-pharmacologic interventions and management of side effects from psychotropics.
Roger S. McIntyre, MD, FRCPC, University of Toronto, joined steering committee members Rakesh Jain, MD, Texas Tech Health Sciences Center School of Medicine, Vladimir Maletic, MD, MS, University of South Carolina School of Medicine, and Charles L. Raison, MD University of Wisconsin-Madison, for an opening session on the latest discoveries in immune, brain, and metabolic science that could change how mental illness is treated.
Jeffrey W. Swanson, PhD, Duke University, warned against placing blame for the country's scourge of gun violence on the mentally ill or weaknesses in the mental health care system.
Andrew Penn, RN, MS, NP, CNS, APRN-BC, Kaiser Permanente and University of California, San Francisco, and Psych Congress steering committee member, advised mental health professionals on how to manage patients who are using cannabis to help minimize the risks they face.
Jon E. Grant, MD, JD, MPH, University of Chicago, discussed how common obsessive-compulsive and related disorders are, and the specialized types of treatment they require.
Leading forensic psychiatrist Phillip J. Resnick, MD, spoke about the treatment of paranoid patients and evaluating the risk of them turning violent.
Suicide and mental health advocate Kevin Hines shared his powerful personal story about suicide. In 2000, two years after he was diagnosed with bipolar disorder, Mr. Hines attempted to take his life by jumping from the Golden Gate Bridge. He is one of only thirty-four individuals to survive the fall and now is a leading champion for suicide prevention.
"This is my first time attending Psych Congress and I am completely wowed by the experience," said Parul Shah, MD, VA New Jersey Health Care System, Lyons, NJ. "It has been an incredibly informative meeting, and I especially enjoyed the session on anti-inflammatory strategies with Dr. Rakesh Jain, as well as the presentations on gun violence and insomnia. I'm looking forward to returning next year."
"I am proud to have been a part of the planning for this year's meeting. Our committee worked diligently to create a program to ensure this experience would provide practical insight and immediately usable information. I feel confident that we delivered what we set out to achieve," said Charles L. Raison, MD, MS and co-chair, 2016 Psych Congress.
Sold-Out Exhibit Hall
A total of 111 exhibiting companies and organizations showcased new technologies and innovations across the sold-out expo, which included 22 first-time exhibitors.
"This is our fourth year exhibiting at Psych Congress and we've been so pleased with the traffic to our booth and the quality of leads," said Nelly Springer, recruitment manager, Department of State Hospitals, Sacramento, CA. "We love Psych Congress because of its national reach – we're able to network and interact with great candidates from all over the U.S. and we plan to be back for our fifth year in the expo in 2017."
Power of Community
On Thursday evening at Psych Congress, the innovative work of the San Antonio Police Department's (SAPD) Crisis Intervention Training Program (CIT) was recognized with a $5,000 charitable contribution. The CIT program is designed to improve the way law enforcement officials and the community respond to those experiencing mental health crises, through a strong network connecting law enforcement, mental health provider agencies, and individuals and families affected by mental illness.
Capping off the evening's programming was the high-energy presentation of Nobu Adilman and Daveed Goldman, founders of the international singing phenomenon, Choir! Choir! Choir!, the Toronto-based public choir featuring revolving participation from more than 12,000 non-professional members. In their talk, the duo explored how music is a powerful tool to promote community and improve mental health and then engaged attendees in an impromptu choir performance.
Early-Career Education
Introduced during the meeting was Elevate by Psych Congress, a new educational offering designed for early-career clinicians that will take place March 3-5, 2017 in San Francisco.
The 30th anniversary of Psych Congress will take place September 16-19, 2017 in New Orleans. For information regarding attendance, exhibit or support opportunities, please visit psychcongress.com.
About Psych Congress
Psych Congress is the nation's largest independent cross-disciplinary educational conference dedicated to psychopharmacology, psychotherapy, and wellness. The annual conference attracts on average more than 2,100 psychiatrists, psychiatric nurses, physician assistants, psychologists, primary care physicians, and other healthcare professionals who seek to increase their knowledge, confidence, and abilities to improve patient outcomes pertaining to mental illness. Psych Congress is owned and organized by HMP Communications Holdings, a leader in healthcare content and medical education meetings. For more information, visit psychcongress.com.
About HMP Communications Holdings, LLC
HMP Communications Holdings, LLC (HMP), a collaborative formed by HMP Communications, LLC and the North American Center for Continuing Medical Education, LLC (NACCME), is a multi-channel leader in healthcare content and education, with a mission to improve patient care. The company produces clinically relevant evidence-based journals, events, and accredited continuing education for the healthcare community across a range of therapeutic areas. Its brands include Consultant, the monthly, award-winning journal relied upon by primary care practitioners and the Symposium on Advanced Wound Care (SAWC), the largest wound care meeting in the world. For more information, visit hmpholdings.com.