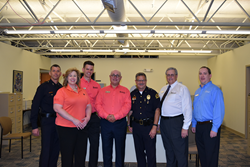 Dallas, TX (PRWEB) October 26, 2016
Resource One Credit Union recently donated $40,000 worth of bullet proof vest to the Dallas Police Department. Resource One is constantly looking for ways to serve not only the community, but first responders as well. Resource One found a way to help Dallas Police be more efficient and prepared for any circumstances by providing the equipment they need to keep themselves and citizens safe.
"Credit Unions care, it is not just a slogan, it is a way of life for us. We strive to give back to the communities we serve through worthwhile donations, such as these vests. If this donation made it possible for one more officer to go home to their family and continue to be a parent, sibling, child and friend to their loved ones, then this donation is priceless," responded Jim Brisendine, CEO of Resource One Credit Union.
Resource One realizes that without first responders, many in the community are vastly affected. Jennifer Grinder, Chief of Sales commented, "When the tragedy struck in July, we knew we wanted to do something for our local police department. Through research, we were able to identify a need for these vests for the officers. Thankfully, our Board of Directors approved the donation and made it possible for us to make a difference for those that selflessly protect others every day."
To find out more about Resource One's branch locations and upcoming events, please visit http://www.r1cu.org.
About Resource One Credit Union
Resource One Credit Union was originally chartered as Sears Dallas Employees Federal Credit Union in 1936. Over time, the increased demand for more locations and additional products and services prompted the expansion of our product lines and field of membership. Today Resource One proudly serves as a not-for-profit financial institution for the communities of Dallas and Harris counties. Resource One has 11 convenient locations to serve our over 55,000 members. Visit Resource One Credit Union's homepage at http://www.r1cu.org.