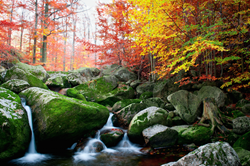 Appalachian Land
Asheville, North Carolina (PRWEB) October 25, 2016
Just beyond the suburbs of Asheville, one of the area's finest mountain communities, The Coves Mountain River Club in Lenoir, has just released two oversized estate parcels catching the attention of Real Estate Scorecard. Finding large land parcels in a Western North Carolina gated community with lifestyle amenities such as swimming, fitness and an equestrian center, is no easy feat. With over 3,600 acres, The Coves Mountain River Club is fortunate and has all types of homesites for families to choose from.
The new 24 acre land parcel in High Country Farms for $109,900 is clearly geared to equestrian needs but doesn't have to be. The other 22 acre parcel priced at $119,900 is near creeks and overlooks pasture. This property has a major spring that forms the headwater of Celia Creek. It has a bold creek running from the spring and 2 creeks that merge in the improved pasture. It also has a 1/4 acre tree farm of mature Leland cypress trees. Both land parcels are priced at less than $6,000 an acre, a bargain according to Real Estate Scorecard.
The Coves Mountain River Club is one of the few gated communities offering long range mountain views of Grandfather Mountain and five miles of frontage on the Johns River adjacent to Wilson Creek, a 23 mile mountain-fed water system originating at Grandfather Mountain.
The Coves' nature-based amenities are focused around fishing, hiking, horseback riding and gardening. There's always something going on in the community's stunning mountaintop lodge. From quarterly Cook-off competitions to the Guest Lecture series, residents can be busy as they want to be.
The Coves Mountain River is close to three national protected forests:
---The Pisgah National Forest,  a stunning land of 500,000 acres of mile-high peaks, cascading waterfalls, and heavily forested slopes.  It's one of the first designated "wilderness" areas in the US. But that only encourages its many uses and outdoor activities. The hardwood forest is studded with whitewater rivers ideal for recreational uses, and hundreds of miles of walkable trails..
---The Nantahala Forest is equally large with more than 500,000 acres with elevations up to 5,800 feet. "Nantahala" is a Cherokee word meaning "land of the noon day sun." Fitting because in the Nantahala Gorge, the sun only reaches to the valley floor near midday. 
---The Chattahoochee National Forest adjoining Nantahala dwarfs its neighbors with more than 750,000 acres of mountainous forest land in North Carolina, Georgia and Tennessee. It is one of the largest expanses of public lands in the eastern United States.
Running through much of this area is America's Favorite Scenic Drive, the Blue Ridge Parkway. Scenic outlooks, hiking trails and waterfalls line the parkway.
The Coves is centrally located between Charlotte and Asheville. In just over an hour, residents can step into a major city for national sporting events, an international airport and world class medical care. As many new residents of North Carolina point out, the year-round climate and mild temperatures are an attraction in itself. And so is the fall foliage now unfolding everywhere in the state (and particularly dramatic in NC mountain communities).
If folks are looking for 'elbow room' to build a dream mountain home in Western North Carolina, The Coves Mountain River Club is a must see. Call The Coves Mountain River Club directly at 828-754-0700 to schedule a tour.
About Real Estate Scorecard:
Real Estate Scorecard writes unbiased real estate reviews providing in-depth information about popular gated communities in Florida, Georgia, the Carolinas, Tennessee, and Central America, all in an effort to help people discover where to retire in the South.
Website: http://realestatescorecard.com