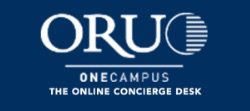 Without rSmart's OneCampus solution it is clear we would have taken twice as long to accomplish this initiative.
Scottsdale, AZ (PRWEB) October 26, 2016
rSmart® is pleased to be named a recipient of the 2016 EDUVENTURES Innovation of the Year Award with Oral Roberts University (ORU). This prestigious award was given to ORU and strategic technology partners who have demonstrated creative use of technology to enhance student success at colleges and universities.
Since 2015, rSmart has been a strategic partner with Oral Roberts University to leverage new paradigms to reach the world with ORU's whole person education, including rSmart's OneCampus service discovery portal. The net result of this partnership led to ORU trademarking a new concept called ORU Geovision™ technologies; providing a global vision to reach the world with their award winning whole person education.
OneCampus is a cloud-based solution that helps users discover services relevant to them and provides administrators valuable user feedback to facilitate further service discovery without a large financial or IT manpower investment. rSmart has provided campus-wide innovation to hundreds of colleges and universities over the past 15 years, but few projects have been more exciting than the development of this world-class initiative. ORU's Geovision™ technologies are fronted by rSmart's OneCampus application which served as ORU's digital concierge service for all students. The outcome of this collaborative work produced a streamlined technology ecosystem that allows all global citizens to engage in ORU's digital networked campus as 'One Campus;' which can transfer education and people around the world at the speed of light; through the integrated ORU Geovision™ technology design.
"We celebrate this award with ORU from many perspectives, but mainly the fact that students enjoy some of the most innovative technology in the world from the OneCampus platform," said rSmart CEO, Tony Potts. "rSmart's partnership with ORU is indicative of the superior, innovative solutions that education technology companies such as rSmart, and exceptional providers of world-class education such as ORU, can provide to our student body. ORU retains 80% of their freshman, has had the greatest two years of student growth, and an IT department that is 40% more efficient through rSmart's OneCampus approach."
Michael Mathews, overall designer of ORU's Geovision™ technologies and ORU's CIO, states "Without rSmart's OneCampus solution it is clear we would have taken twice as long to accomplish this initiative. Their insights, leadership, and corporate team of experts have leaped ORU into an elite category of student services through OneCampus. Without rSmart, the entire breadth and depth of our innovation technologies would not be seamlessly integrated into the education system and have the Global touch into all the world. This prestigious award is evident that we have picked winning partners like rSmart."
About Oral Roberts University
"ORU offers more than 65 undergraduate majors, as well as 14 master's-level programs and two doctoral degrees. Faculty members educated at the nation's top graduate schools serve as academic, professional and spiritual mentors to students.
ORU continues to redefine what it means to be a leading Christian university by embracing a globalized format at home and abroad. The Tulsa campus is home to students from all 50 U.S. states and 90 international countries. ORU and its students also deliver the Whole Person distinctive to all inhabited regions through distance learning, study abroad, educational partnerships, missions and outreach work, all anchored in a Christian worldview." Via http://www.oru.edu
About rSmart
For more than 15 years, rSmart has been changing the way higher ed thinks about technology by delivering solutions that reduce costs, improve productivity, and simplify the user experience. The OneCampus product is a lightweight, mobile-friendly technology that makes finding campus services faster and easier than ever. rSmart is privately held and headquartered in Scottsdale, AZ. To learn more, visit https://www.rsmart.com.