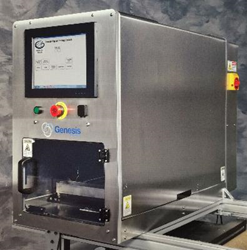 YORK, PA (PRWEB) October 24, 2016
Greydon, powered by Pro Mach, introduces a revolutionary digital in-line printing solution with launch of Genesis printers. This new to the market solution is a digital inkjet printer designed to print on practically every substrate (paper, film or Tyvek®) at very high resolution and high speed. Genesis is designed primarily for horizontal form fill and seal packaging machines as well as blister pack machines. Its scalable design allows it to fit perfectly in every application, ranging in print widths from 70mm to 570mm.
Adding Product Value
When developing this product, Greydon's intent was to not only innovate a new and better application solution, but to also add value for the customer by way of increased reliability. In doing so, technical enhancements were made that now decrease maintenance costs as compared to any of the next best alternatives. Even the ink supply can be restored while the printer is operating, reducing the production line downtime.
Scalable Design
Custom plate design in traversing models allow for stacking multiple print-heads in the same row, thus increasing the print height. In addition, it is possible to stack more rows to allow for multiple color management. In static model, this allows for increased print width or more "color bars", up to four bars.
Precision Components
All Genesis metal components are CNC machined to ensure maximum precision and minimize alignment issues. Further, software alignment control allows for dot placement precision of +/- 35 microns.
Greydon combines technology and expertise in their printing solution to provide optimal performance. Using the latest operating components currently available on the market for printing technology in both hardware and software, they are able to help customers get true value. This can be demonstrated, for example, in the use of their advanced print-heads, as well as energy efficient LED UV curing lamps to obtain exactly the same quality result on paper, Tyvek® and film. For more information on Greydon's flexible printing solutions, call 717-848-3875 and visit http://www.greydon.com.
About Greydon
GREYDON, part of the Pro Mach Labeling & Coding Group, was started in 1993 with a concept of providing the highest quality and best value printing equipment for the packaging. Greydon specializes in creating innovative imprinting equipment for packaging with a complete line of high quality in-line printers. Their focus has been primarily horizontal form, fill and seal packaging machine applications in the meat, cheese and dairy markets, as well as the medical and pharmaceutical industries. Greydon's scope continues to broaden with additional applications within this same core customer group. For more information about Greydon, please visit http://www.greydon.com.
About Pro Mach
Pro Mach is a leading provider of integrated packaging and processing products and solutions for food, beverage, consumer goods, pharmaceutical, and other diverse companies. Through multiple brands, Pro Mach provides product packaging and processing equipment, PMMI certified trainers, installation, parts, and service in Bottling & Capping, Primary Packaging, Pharmaceutical Packaging, Flexible Packaging, Material Handling, Labeling & Coding, and End of Line, as well as Integrated Solutions for complete packaging lines.
Pro Mach has a diverse customer base, from Fortune 500 companies to smaller, privately held businesses worldwide, which depend on reliable, flexible, technologically advanced equipment and integrated solutions. Pro Mach is headquartered near Cincinnati, Ohio, with manufacturing facilities and offices throughout the United States, Canada, Mexico, Europe, United Arab Emirates, and China. For more information about Pro Mach, please visit http://www.ProMachInc.com.