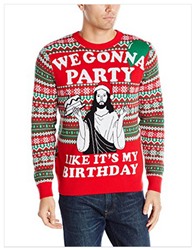 "Out of literally dozens of companies, and hundreds of different funny Christmas sweater designs, we found these 5 to be the funniest to us this year, without crossing the line of not being family friendly." said Sarah Thomas of Ugly-Sweaters.com
Tallahassee, Florida (PRWEB) October 25, 2016
With the 2016 winter holiday's right around the corner the Ugly Christmas Sweater craze is heating up again and with that have come some new, and very funny, styles of Christmas Sweaters. From the obscene to just plain silly (and even political with Trump and Hillary themed sweaters) many online retailers have jumped on the growing ugly sweater trend and produced their own wacky styles of sweaters for 2016. Even celebrities like Whoopi Goldberg have announced their own new lines of ugly Christmas sweaters this year.
In the spirit of the season UglySweaters.com, a small Florida based company that focuses on listing the best ugly Christmas sweaters for sale each year, has just announced their list of choices for the top 5 funny ugly Christmas sweaters for 2016 and there are certainly some hilarious winners this year.
"Out of literally dozens of companies, and hundreds of different funny Christmas sweater designs, we found these 5 to be the funniest to us this year, without crossing the line of not being family friendly. There are many more "adult themed" or "naughty" Christmas sweaters that we found very funny as well but we did not find them appropriate to include on our top list, however we do offer the more inappropriate styles for sale on our website" said Sarah Thomas, co-owner of Ugly-Sweaters.com.
This year's top 5 favorite funny ugly Christmas sweater designs chosen by the Ugly Sweaters Team are… drum roll please….
#1 Jesus "We Gonna Party Like It's My Birthday" Christmas Sweater by Alex Stevens
#2 Donald Trump Make Christmas Great Again by Tee Shirt Palace
#3 Seinfeld's "Festivus for the Rest of Us" Christmas Sweater by Festified
#4 "The Dude Abides" Christmas Sweater by The Big Lebowski
#5 The Grumpy Cat Christmas Sweater by Alex Stevens
Runner Up:
Ralphie's Bunny Suit from the classic holiday movie "A Christmas Story"
It's not a sweater but it had to be included since it is a classic Christmas movie and is guaranteed to be a huge hit at any Christmas party or for just kicking it around the house on those cold winter nights. Aunt Clara would be proud!
Congratulations goes out to the creative companies and individual designers that thought up and created these amazing sweaters! Be sure to visit http://www.Ugly-Sweaters.com for more information about these, and more, of the best funny and ugliest Christmas sweaters online.