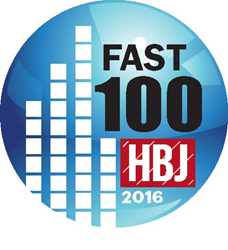 Houston, Texas (PRWEB) October 25, 2016
Entrust Energy is Houston's fastest growing retail energy provider, according to Houston's Business Journal's (HBJ) Fast 100 List. In the exclusive HBJ ranking of the fastest-growing Houston-based private companies, Entrust Energy earned the No. 13 spot overall. This latest recognition marks the third time in its history the Company has been recognized for its exceptional revenue growth.
In August, Entrust Energy also ranked as one of the nation's fastest growing companies by Inc. Magazine. In its second appearance on Inc. magazine's annual Inc. 5000 list, Entrust Energy ranked No. 10 among top Houston companies and No. 673 overall.
"Earning another distinction for the growth of our Company is incredibly rewarding for our team. To be named the only retail energy provider on the Houston Business Journal Fast 100 List is indicative of the hard work and dedication of our employees to our customers, community and business," said Layne Loessin, President & CEO of Entrust Energy. "Since launching in 2011, we've achieved exponential growth across many aspects of our business and as part of our commitment to provide exceptional service to our valued customers, we continue to invest in our people, processes, and systems."
According to HBJ, companies on the Fast 100 List are ranked by two-year revenue growth. Among the many qualifications for the ranking, companies must be based in Houston and earn at least $1 million in revenue for fiscal year 2015.
In just six years, Entrust Energy has grown from four employees to 132 and in the last two years it has experienced a significant revenue growth of 200%.
"Along with a keen focus on the growth of our business, delivering an outstanding customer experience is central to our strategy and the key ingredient to our continued success," said Loessin.
About Entrust Energy
Entrust Energy is a retail energy company dedicated to delivering electricity and natural gas to homes and businesses in deregulated markets throughout the United States. We differentiate ourselves by consistently providing first-class, quality customer experiences and competitive and engaging products. Put simply, we are people serving people, providing personalized service with the upmost respect that our customers deserve. For more information about Entrust Energy, visit: http://www.entrustenergy.com
###