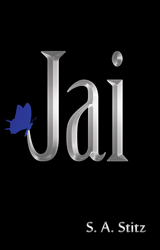 Pheonix, AZ (PRWEB) October 31, 2016
A life spent traveling and having numerous one-of-a-kind experiences inspired S.A. Stitz's new novel, "Jai." The novel tells the story of a girl named Jai and her journey to a mystical land and beyond. When faced with extraordinary circumstances, Jai learns that she is not the normal person she once thought and fights to survive her new reality.
Jai's supernatural abilities allow her to exhibit strength, grace, and power both mentally and physically as she seeks to discover her worth. Due to Jai's unprecedented powers, she uses these abilities to save her people's kind from extinction perpetuated by the forces that harm them.
"Although my novel is filled with unexplainable events and mystical characters, readers will be able to relate to Jai as she encounters many different situations forcing her to search beyond who she really is," Stitz said.
Along with paranormal talents and adventurous themes, Stitz adds a thought-provoking point of view for its readers: how the sexual aspect of humans can be used for a different purpose.
Stitz's novel shows how Jai's relationships and sexual experiences mirror modern society's increasing acceptance of the non-linear relationship between gender, sexual orientation and romance. Through the transmittance of her sexual energies and various passionate relationships, Jai's abnormal abilities strengthen, helping her to fulfill what lies ahead.
Readers will follow Jai through a fantastical journey filled with adventure, discovery and passion.
"Jai"
By: S.A. Stitz
ISBN: 978-1-4808-3258-9 (sc); 978-1-4808-3259-6 (hc); 978-1-4808-3260-2 (e)
Available at Archway Publishing Online Bookstore and Amazon
About the Author
The author of "Jai," S. A. Stitz, is an adventurer who was inspired to write this novel during his world travels. To learn more about the author and his book, please visit http://www.sastitz.com/
# # #
Review Copies & Interview Requests:
LAVIDGE - Phoenix
Courtney Coombes
480-998-2600 x 612
ccoombes(at)lavidge(dot)com
General Inquiries:
LAVIDGE - Phoenix
Maggie Driver
480-998-2600 x 584
mdriver(at)lavidge(dot)com