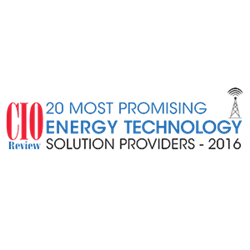 With Gensuite technology, energy companies gain the capabilities they need to ensure a compliant, sustainable and efficient business
FREMONT, California (PRWEB) October 25, 2016
"We are proud to announce Gensuite as one among the 20 Most Promising Energy Technology Solution Providers in 2016," said Jeevan George, Managing Editor of CIOReview. "Gensuite discovers the full potential of an affordable, low-cost digital maintenance solution, with ease of launch for business at a single site, multiple sites or enterprise-wide."
Gensuite's software services and solutions enable functional organization to successfully implement management systems, manage risk and achieve compliance. It offers functionally-integrated and intuitive applications available for rapid configuration and deployment, with a focus on fast return on investment (ROI), service excellence and continuous innovation.
"With Gensuite technology, energy companies gain the capabilities they need to ensure a compliant, sustainable and efficient business. Our environmental compliance, sustainability management and mobile-centric analytics platforms allow users to track their operational metrics and sustainability footprint with simple to use dashboards and powerful data analytics," explains R. Mukund, Founder and CEO of Gensuite.
About CIOReview
Published from Fremont, California, CIOReview is a print magazine that explores and understands the plethora of ways adopted by firms to execute the smooth functioning of their businesses. A distinguished panel comprising of CEOs, CIOs, IT VPs including CIOReview editorial board finalized the "20 Most Promising Energy Technology Solution Providers 2016" in the U.S. and shortlisted the best vendors and consultants. For more info: http://www.cioreview.com/
Gensuite® cloud-based IT solutions enable you to achieve your vision for robust and effective business compliance processes and management systems. The result of two decades of systematic innovation and evolution, Gensuite today offers proven product suites for Environment, Health & Safety (EH&S) and Sustainability; Quality; Security; Responsible Sourcing, and Product Stewardship. Our 65+ integrated, award-winning Web applications provide comprehensive program support, delivering enterprise operational excellence and risk management. All Gensuite applications share an innovative and patented architecture, with integrated and intuitive interfaces, real-time trending & analytics, and best-in-class Mobile capabilities. Gensuite subscribers are assured of an absolute commitment to and a track record of product & service excellence, with services spanning hosting, maintenance, support, customization, implementation & strategy consulting and continuous product evolution; and an unmatched collaboration and innovation community spanning 110+ global subscriber companies!