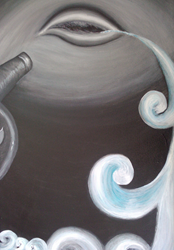 The extremely salacious statements made about women by Mr Trump, has brought to the fore the primary problem in our society where a woman is recognized by her gender first.
Cupertino, California (PRWEB) October 25, 2016
For feminist artist Sujata Tibrewala, the subject of women and their dignity is something that has been the focal point in all her works. The artist with a laborious force has striven to show how women are subjugated and degraded in various spheres of both personal and professional lives. Her works constantly bring to attention what may be wrong in the patriarchal attitudes that have misshapen the gender balance in our society. Needless to add then, that for Ms Tibrewala to hear extremely inappropriate statements about women, their bodies, their rights and their intelligence during the ongoing Presidential campaign has been one of the most distressing experiences. Ms Tibrewala who has always regarded the political battle in the United States, as a great learning experience for understanding two opposing but valid viewpoints, feels that Donald Trump has reduced the current tussle to an improbable impasse. She says, "The extremely salacious statements made about women and their bodies, by Mr Trump, has brought to the fore the primary problem in our society where a woman is recognized by her gender first." The artist through her strong and non-conformist works tries to revolt against this attitude. The artist expresses deep outrage at the impunity with which the Presidential candidate has mentioned feminine parts in the past, as if they are tools to be mocked upon. She also feels disturbed by the thought process where Mr Trump believes that a woman should not have a right to her own body and thinks that an abortion should not be paid for by federal funds. By her works she means to question the validity of this stance in a situation where it may pose a threat to a woman's life and body. As a fitting answer to those inappropriate comments, the artist has put on showcase her work titled Vagina Blues. The acrylic on canvas painting reminds the onlooker that the very force that gives birth to mankind, is a source of pleasure to men and holds the power of continuity in this universe is being abused instead of being respected. She abhors the notion where the primal source of our existence is derided.
Making another strong socio-political statement is a work titled Skin Deep. The artist through this work gently makes one realize that how little in the grand scheme of things our vanity matters. She puts a figure of a woman and a skeleton next to each other in this painting and asks if matters such a mole on the skin or graying hair would matter to someone who is unsure about arranging food for himself or herself. She points out how frivolous these external parameters of beauty can be. The idea gains significance especially in an atmosphere where a continued reference has been made to suggest that a woman's worth is proportional to her beauty. The exhibit aims to debunk these outdated notions and proposes everyone to look beyond the regressive ideals and save this great nation we all love so dearly.
About the artist:
Sujata Tibrewala, a self-taught artist come engineer remarkably embodies the indomitable spirit of human existence through her works. Her works revolve around the theme of eco-feminism. She has exhibited her artworks in some of the most reputed venues around the globe such as University of Illinois, Chicago, Raw San Jose, Parallax Art Fair London, the Regional Commission of Arts St Louis, Life Force Arts Chicago, Mindworks Gallery Chesterfield, St. Louis Artists' Guild, Chesterfield Arts, Art World Association, Women's Caucus for the Arts, MySLART and Lalit Kala Academy, Delhi. She moved to the USA in 2010 from India and practices her art form at the Bay Area, CA, where she resides presently.