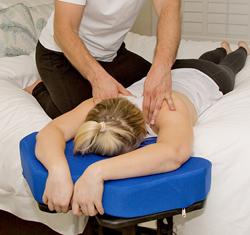 "After a long day of too much sitting, driving, or just reawakening those old injuries and aches and pains, ErgoPosition™ properly places the body with all the vertebrae aligned as they should be. It can do wonders to de-stress and re-energize the body."
SAN CLEMENTE, CA (PRWEB) October 25, 2016
Tranquil Touch, LLC recently announced the relaunch of ErgoPosition™, an at-home comfort positioning system that turns an ordinary bed into at-home spa massage table. Easily installed as an extension to a mattress, ErgoPosition™'s batwing, open face pillow cradles the head and supports the arms while allowing for deep, comfortable breathing while lying in a face down position on any bed. The product is perfect for solo stretching, relaxation and meditation, or for couples massage.
"ErgoPosition™ places the body in a healthy neutral spine position,"said Dr. Howard A. Fidler DC, FICC, FICPA, Chiropractic Consultant for ErgoPosition™. "After a long day of too much sitting, driving, or just reawakening those old injuries and aches and pains, ErgoPosition™ properly places the body with all the vertebrae aligned as they should be. It can do wonders to de-stress and re-energize the body."
The reintroduction of the product features a specially designed, batwing pillow made of high-quality memory foam. "The pillow is our customer's favorite because it supports their arms above their head, allowing them to achieve stress relief through their upper back and shoulders," said Steve Fried, inventor of ErgoPosition™. "Unlike the hard leather of the typical massage table, our customers can sink into the pillow as they enjoy their stretch or massage."
With the reinvention of the product, Tranquil Touch LLC also launched a new logo and website at ergoposition.com, which includes easy online ordering of the unit itself, as well as several accessories to enhance the benefits of use, such as ErgoPosition Massage Oils and ErgoPosition Bolster Pillows. The product's reviews on Amazon.com show the product already has a fan base.
In addition to marketing the product directly, Tranquil Touch offers opportunities for wholesalers and health practitioners to sell ErgoPosition™ retail, or become an ErgoPosition™ affiliate to receive a ten percent commission for sales originating from their website, e-commerce store, blog or social media site.
To learn more about the TheraPosition™ Comfort System as well as future product releases from Tranquil Touch, LLC visit: http://www.ergoposition.com.
About Tranquil Touch, LLC
ErgoPosition™ is the flagship product of Tranquil Touch, LLC, a company dedicated to innovating products that enhance people's comfort throughout various stages of their health and wellness. Tranquil Touch, LLC was founded in 2006 by biomedical engineer Steve Fried, who originally developed ErgoPosition® to bring comfort to a loved one suffering with a chronic injury. Other Tranquil Touch products include TheraPosition™ for face down vitrectomy recovery and the TheraPosition® Accessory Media Table. For more information visit ergoposition.com, call 1.800.951.2850 or visit Facebook.