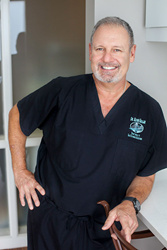 Mt. Pleasant, SC (PRWEB) October 24, 2016
Dr. Kevin Hogan is pleased to announce that the FDA has provided its first ever clearance for True Regeneration™ utilizing the LANAP® protocol. This is a major accomplishment in laser dentistry and illustrates the advantage of receiving treatments with this technique. As an experienced dentist in Mt. Pleasant, SC, Dr. Hogan is pleased to now accept new patients for LANAP® protocol treatments without requiring a referral.
True Regeneration™ with the LANAP® protocol is a procedure that demonstrates the ability of laser dentistry to fully regenerate tissues that have been lost to disease. Tissues that can be regenerated with the advanced LANAP® protocol laser treatment system include cementum, periodontal ligament and alveolar bone. Dr. Hogan utilizes LANAP® in his practice to treat various stages of periodontal disease and help restore oral health. The new FDA clearance of the procedure illustrates its effectiveness and demonstrates its safety.
Periodontal disease is experienced to some level by approximately 50 percent of the adult population in the United States. Out of these periodontal disease cases, approximately half of them can be classified as moderate to severe. However, a very small percentage of people with periodontal disease seek treatment for the condition, while nearly 40 percent of people with moderate to severe periodontal disease are unaware that they have it. Since periodontal disease has been linked to conditions such as heart disease, diabetes and other diseases, receiving treatment is of utmost importance. Some patients avoid treatment because traditional procedures for gum disease are invasive and can be painful. The LANAP® protocol helps remove fear of painful treatments by targeting diseased tissue in a gentle, minimally-invasive way.
Patients with gum disease are encouraged to seek treatment from Dr. Hogan, a trusted dentist in Mt. Pleasant, SC.Laser dentistry with the LANAP® technique serves the purpose of not only targeting and treating diseased gum tissue, but regenerating lost tissue as well. Appointments can be reserved by calling 843-639-5044.
About the Doctor
Dr. Kevin Hogan is a general dentist providing individualized care for patients in Mt Pleasant, SC. Dr. Hogan is a graduate of the Indiana University School of Dentistry and has completed hundreds of hours of continuing education courses to stay contemporary with the latest dental technologies. In addition, he has also completed coursework with the Dental Organization for Conscious Sedation and has lectured at the University of North Carolina, Emory University, the Saginaw Valley University and AUA-American University of Antigua on head and neck anatomy and oral pathology. Dr. Hogan is a member of the American Dental Association, International College of Cranio-Mandibular Orthopedics, Academy of Laser Dentistry, International Association of Physiologic Aesthetics, Institute for Advanced Laser Dentistry, DOCS (the Dental Organization for Conscious Sedation), International Congress of Oral Implantologists and the South Carolina Dental Association. He is also a past member of the American Straight Wire Orthodontic Association, Maxillofacial Orthopedic Growth and Development, the American Academy of Pediatric Dentistry and the Functional Orthodontic Society. He and his team are dedicated to providing exceptional oral care to patients through personalized treatment plans. To learn more about the services offered by Dr. Hogan, please visit his website at http://www.smilesbyhogan.com or call (843) 639-5044.