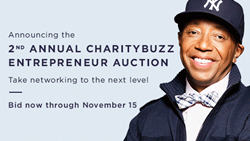 By auctioning luxury items and celebrity experiences online to bidders worldwide, Charitybuzz has raised more than $182 million for more than 3,800 nonprofit clients.
NEW YORK CITY, NY (PRWEB) October 26, 2016
Charitybuzz, a Charity Network company, today announced its 2nd Annual Entrepreneur Auction featuring many of the world's most innovative thinkers. Bidders can visit charitybuzz.com, the premier online charity auction platform, for the chance to take a meeting that could change their life. The auction begins on October 25 at http://entrepreneur.charitybuzz.com during the lead up to Global Entrepreneurship Week and ends on November 15.
The Charitybuzz Entrepreneur Auction enables business leaders to tap into Charitybuzz's network of bidders, considered to be one of the most affluent philanthropic communities in the world, in order to raise money for causes they care about. Most business leaders are offering one-on-one time in the form of an executive meeting or power lunch. Other business experiences available include mentorships, internships, office tours, golf outings and trips. Charitybuzz's inaugural event raised almost $1mm for charity through the auction of more than 100 business-related experiences. Highlights included a round of golf with Mike Bloomberg which sold for $52,000 to benefit the Humane Society, a private dinner with CEO of Citigroup, Michael Corbat which sold for $23,250 to benefit the Christopher and Dana Reeve foundation and a meeting with Bill Maris, then President and CEO of Google Ventures, which sold for $56,000 to benefit Rock School Scholarship fund.
By auctioning luxury items and celebrity experiences online to bidders worldwide, Charitybuzz has raised more than $182 million for more than 3,800 nonprofit clients. Meetings with entrepreneurs and business leaders have to date been one of the company's most successful fundraising categories. Pitch meetings with Rupert Murdoch, Richard Branson and Mark Cuban each sold for more than $85,000 earlier this year. The most popular business meeting ever to sell on Charitybuzz was coffee with Apple CEO Tim Cook, breaking records at $610,000 to benefit the Robert F. Kennedy Center for Justice and Human Rights.
"The Charitybuzz Tim Cook auction was a watershed moment for us. We realized that successful business leaders could raise as much for charity as some of Hollywood's hottest celebrities," said Ben Erwin, VP of Business Development for the Charity Network. "We established The Entrepreneur Auction as the only digital curation of its kind and have been blown away by the caliber of participants. Plus, what better way for our bidders to network, than to meet with industry executives by supporting causes they care about."
The Entrepreneur Auction will take place live at entrepreneur.charitybuzz.com from October 25 - November 15, 2016. This year's formidable participants and their charitable beneficiaries fall into four categories: Lifestyle, Media, Tech, and Finance and Investors. They include:
Lifestyle
Tommy Hilfiger, Fashion Designer, Founder Tommy Hilfiger Corporation for Gabrielle's Angels Foundation for Cancer Research
Alexandra Wilkis Wilson, Co-founder, Gilt Group for Dress for Success
Cindy Crawford, Colin Cowie and Simon de Pury the Gabrielle's Angels Foundation for Cancer Research
Ken Downing for Dallas Cattle Baron's Ball supporting the American Cancer Society
Paris Hilton for Children's Hospital Los Angeles
Lisa Gersh, CEO of GOOP for Flying Kites
Russell Simmons for Rush Philanthropic Arts Foundation
Neil Blumenthal, Founder Warby Parker for UN Foundation's Global Entrepreneurs Council
Stella McCartney OBE, Fashion Designer for PETA
Mark Tatum, NBA Deputy Commissioner for Thurgood Marshall College Fund
Media
Harvey Weinstein, Co-chairman, The Weinstein Company for the Max Foundation
Bob Pittman, Chairman and CEO, iHeartMedia for
Donny Deutsch, Chairman Emeritus, Deutsch Inc for Gabrielle's Angel Foundation for Cancer Research
John Steinberg, Cheddar Founder,Former President of Buzzfeed for the Penn Basser center
Strauss Zelnick, Chairman and CEO of Take Two Interactive Software for Games for Change
Tech
Belinda Johnson, Chief Business Affairs and Legal Officer, Airbnb for UNHCR - The UN Refugee Agency
Carolyn Everson, VP Global Marketing Solutions, Facebook for SAVE of Essex County
Steve Ballmer, Former CEO of Microsoft and owner, LA Clippers for New York Collaborates for Autism
Paul English, Founder Co-founder, Kayak and Lola for Flying Kites
Guy Kawasaki, Author and Former Chief Evangelist, Apple for Wikimedia Foundation
John Couch, VP Education, Apple for Santa Fe Christian Schools
Sean Rad, Co-founder of Tinder for Go Campaign
Heidi Messer, Co-founder of Linkshare and Collectiv (i)
Finance and Investors
Richard Branson for the National Tennis Foundation
Mark Cuban for the Autism Society of America
Kevin O'Leary for Women's Entrepreneurship Day
Marc Lasry for American Friends of Soroka
Jeff Stibel for Doctors without Borders
Other participants include Emilio Estefan (The Gloria Estefan Foundation), Dan Ariely (Games for Change), Don Garber (Save of Essex County), Elizabeth Gore and Carolyn Rodz (UN Foundation), Julie Greenwald (Shine on Sierra Leone), Graeme Devine (Games for Change), John Hoke (Children's Cancer Association), Neil Blumenthal (Un Foundation) and many more! For more information, please visit entrepreneur.charitybuzz.com
ABOUT CHARITYBUZZ
Charitybuzz raises funds for nonprofits around the globe through online auctions with the world's most recognizable celebrities and brands. Featuring access to acclaimed actors and musicians, business and political leaders, sports stars, luxury travel, couture fashion, rare memorabilia and more, Charitybuzz brings its online community of bidders exclusive opportunities to live their dreams and make a difference. Since launching, Charitybuzz has raised more than $180 million for charity. Its roster of celebrity supporters includes President Clinton, Sir Paul McCartney, Tim Cook, Mick Jagger, Warren Buffet, Robert Downey Jr., Taylor Swift, Ralph Lauren, Mayor Mike Bloomberg, Barbra Streisand, Howard Stern, Chevy Chase, Billy Joel, HBO, Victoria's Secret, Justin Bieber, Lady Gaga, John Varvatos, David Yurman, Bruce Springsteen, Hugh Jackman, and Beyoncé.
ABOUT THE CHARITY NETWORK
The Charity Network harnesses the power of celebrity, technology, and media to raise awareness and funds for some of the world's toughest challenges. With a mission to complement traditional fundraising models and help charities transition from analog to digital, the Charity Network has raised hundreds of millions of dollars for causes across the globe. Launched in 2016 by entrepreneur and philanthropist Todd Wagner, the Charity Network is the parent company to three top digital fundraising platforms: Chideo, Prizeo, and Charitybuzz. Each platform is a leader in its own field: Charitybuzz in online charity auctions, Prizeo in online sweepstakes and experiences, and Chideo in cause and entertainment content. These three consumer-facing platforms, all working in tandem, reach a broad and diverse group of donors from millennials to baby boomers through a network of syndicated partners including Sinclair Broadcast Group, Tribune Company, The Ellen DeGeneres Show, Twitter, Delta Airlines and more. Together with its partners the Charity Network can amplify a cause message to over 80% of US television households.
In addition to its consumer platforms, the Charity Network provides a full range of services to help celebrities, charities, and brands customize their cause messages through the CN Solutions team of digital giving experts. To learn more please visit: http://www.charitynetwork.com.