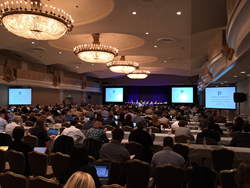 Philadelphia, PA (PRWEB) October 25, 2016
Perrin Conferences provides acclaimed, neutral educational forums showcasing thought leaders from all perspectives in the U.S. litigation industry. The Diversity & Inclusion Conference agenda has an impressive number of corporate speakers offering their perspectives on diversity and inclusion initiatives, strategies, challenges and ideas.
The conference provides a rare opportunity to meet with a large number of corporate executives, hear their strategies on how to promote diversity and inclusion and what they look for when hiring law firms and other outside companies to partner with.
Some of the other topics to be discussed include Insights on Diversity in the Legal Community; Understanding the Value of Emotional Intelligence; Developing Diverse and Inclusive Leadership; Turning Words into Action; and others. Attendees can expect a day of learning through informative panel presentations, interactive discussions and workshops involving audience participation.
In-house counsel from the following companies will appear on panels throughout the conference, along with leading attorneys who are intricately involved in their respective firms' diversity and inclusion initiatives.
Alonzo Barber, Attorney, Microsoft North America
Dave Brown, Senior Vice President & Chief Claims Officer, CorVel Corporation
Debbie A. Carlos, Assistant General Counsel, Litigation, Sunoco, Inc.
Lawrence Dietrich, Vice President and Operating Unit Counsel, Coca-Cola
Klayton Fennell, Senior Vice President of Government Affairs, Comcast NBCUniversal
Jessica L. Halbert, Associate General Counsel, QVC, Inc.
Bedouin L. Joseph, Counsel-Downstream Law, Exxon Mobil Corporation
Mara Garcia Kaplan, Director Counsel, M&A, Target
Kelli M. Lane, Litigation Counsel, Honeywell
David Pilson, Director, Compensation & Benefits Counsel, eBay Inc.
Deborah Saunders, Director, Claims, Global Risk Management, Comcast NBCUniversal
Kanan Sheth, Assistant Vice President, Claims Counsel, Endurance Services
Robert Simmons, Assistant General Counsel, Molson Coors
Mary Ann Vordran, Claims Manager, Navigators
Betsy Woudenberg, CEO, IntelligenceArts, LLC
In addition to providing exclusive opportunities for learning, networking, and information sharing, this conference offers Continuing Legal Education (CLE) Credit. For more information regarding registration and hotel accommodations, please visit http://www.PerrinConferences.com.
***
About Perrin Conferences
As the leading national provider of joint plaintiff/defendant litigation conferences, Perrin Conferences offers comprehensive and specialized continuing legal education (CE/CLE) in an atmosphere of learning, networking and sharing. The company's conferences attract influential leaders and foremost talent in the legal industry to discuss current topics in litigation through mock trials, presentations and webinars, setting the standard in professional litigation education and networking.