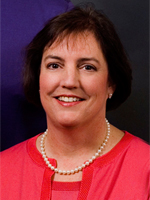 Her extensive experience and strategic vision will be a significant contribution to the company.
MENLO PARK, CA (PRWEB) October 25, 2016
Vortex Biosciences, provider of circulating tumor cell (CTC) capture systems, is pleased to announce that Deborah J. Neff has accepted the role as Non-Executive Director. Deborah has served in a number of leadership positions in healthcare companies, including a 15-year career at Becton Dickinson & Co in executive management positions, making her ideally positioned to provide oversight to Vortex Biosciences as it approaches commercialization of its first product, the VTX-1 Liquid Biopsy System.
During her time at Becton Dickinson & Co, she was the Worldwide President of BD Biosciences with global P&L responsibilities. Under her leadership, the BD Biosciences grew to be a ~$700M business. Most recently, Deborah was the Chief Operating Officer of Complete Genomics Inc., where she led strategy development, established and delivered financial and operational milestones, and was responsible for operations, commercial and product development. Prior to that she was the President and Chief Executive Officer at both Predicant Biosciences Inc, and at Pathwork Diagnostics Inc., where she led the raising of capital, hiring of the executive team, development of an FDA cleared product, and achieved multi-million dollar annual sales. She was a member of the Board of Directors at Advanced Medical Optics Inc. and ForteBio Corporation Inc. prior to their being acquired, and is currently a member of the Board of Directors at Bio-Rad Laboratories. Her experience in leading both large and small companies in the development and execution of a strategic vision will be a tremendous asset to Vortex.
"Deborah will be a very strong addition to the team," said Gene Walther, Chief Executive Officer of Vortex Biosciences. "Her extensive experience and strategic vision will be a significant contribution to the company."
"I am excited to be joining Vortex Biosciences at this time when the company is moving towards commercialization of their lead asset," Deborah Neff commented. "I look forward to working with the team during this dynamic time."
The VTX-1 system, with a planned commercial launch in the first quarter of 2017, is a fully automated benchtop system for capturing intact circulating tumor cells (CTCs) directly from whole blood samples without any preprocessing steps. The proprietary Vortex technology uses microvortices to stably capture the larger, more deformable CTCs, while white and red blood cells flow past. Captured CTCs are then released in a 300 µL volume in a container of the user's choice. Representative of cancer status in the patient, CTCs, shed by tumors, can potentially reveal disease recurrence or disease progression earlier than imaging and more reliably compared with standard biomarkers.
About Vortex Biosciences
Vortex Biosciences is a cancer research and diagnostics company that integrates cancer biology, microfluidic engineering and informatics to develop tools for isolating and characterizing circulating tumor cells. The Vortex VTX-1 instrument harvests intact circulating tumor cells from whole blood samples for use in downstream research and clinical applications such as patient stratification in clinical trials, monitoring disease progression and drug treatment effectiveness. With a mission to enable noninvasive diagnosis of cancer and real-time monitoring throughout a patient's treatment, Vortex is at the forefront of accelerating cancer research and improving patient outcomes. Vortex is a core subsidiary of NetScientific plc, a transatlantic healthcare technology group with an investment strategy focused on sourcing, funding and commercializing technologies that significantly improve the health and well-being of people with chronic diseases. For more information, visit http://www.vortexbiosciences.com.