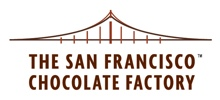 "Help keep the San Francisco Chocolate Factory in San Francisco by buying chocolate and supporting our Indiegogo campaign," Mike Litton, Founder SFCF.
San Francisco (PRWEB) October 26, 2016
The San Francisco Chocolate Factory has launched an Indiegogo Campaign on October 26th. The San Francisco Chocolate Factory, long a tradition in the South of Market area, has had to relocate due to the high commercial rents in San Francisco from the latest technology boom.
"We've kicked off this Indiegogo Campaign to re-launch our company at the new location and to stay in San Francisco," according to company founder and CEO, Mike Litton. "We are surrounded by Uber, Zynga and Twitter. We are an equal opportunity chocolate provider, but these technology giants and others are causing commercial rents to soar. We are asking the local technology, business, foodie and chocolate community to help us out by buying some of our chocolate to help us stay in the City that we've known for so many years."
The company's rent at their previous location increased 300% so they had to relocate. They like their new office on Market but are reaching out to chocolate lovers everywhere to consider donating to their Indiegogo campaign to keep them in SF. Donors to the campaign will receive chocolate and other fun gifts in return. The chocolate is packaged in colorful tins with images of iconic San Francisco scenes and themes based upon pairing chocolate with wine, books, tea and coffee.
The business started in 2001 and has loyal customers and a following, but a move is hard on any company's pocketbook. According to Litton, "Even our new location on Market near Van Ness is seeing changes in the few weeks we have been here. The Goodwill store across the street is slated to be torn down and turned into a 29 story building!"
With chocolate lover's help everywhere, The San Francisco Chocolate Factory thinks their Indiegogo Campaign will help them stay in San Francisco where they belong as well as keep the wonderful employees that make up their amazing business. "All we are trying to do here is say: "Hey neighbors, we welcome you. How about buying some of your chocolate and gifts from us as we've been here in the community a long time," said Litton.
About Us
The San Francisco Chocolate Factory™ was created to provide chocolate lovers with gourmet-quality, superbly packaged chocolate at a non-gourmet price. Since debuting as The San Francisco Chocolate Factory in 1999, San Francisco Chocolate Factory™ has become a favorite with chocolate lovers nationwide.
Why the San Francisco Chocolate Factory?
Chocolate is proven to be good for the heart and good for the soul—it creates a stir of passion and evokes love. Chocolate can erase a bad day or a bad deed in an instant. As we at the San Francisco Chocolate Factory™ like to say: Love thy neighbor, and bring them chocolate, often!
Known for our unique, custom packaged gourmet chocolates, The San Francisco Chocolate Factory's™ many different brands—now bridged together under one great company—offer a chocolate opportunity for everyone.
From our Tea, Coffee and Wine Lover's Chocolates, to the souvenir Landmark Collection, the kid friendly Got Chocolate? series to our easy on-the-go Chocolate by Numbers, you'll find gourmet chocolates perfect for every day and for special occasions. Give The San Francisco Chocolate Factory™ as a gift to each "special someone" in your life—but make sure to order some extra chocolate for yourself!
The San Francisco Chocolate Factory's™ sales have rapidly expanded beyond the shores of the Bay Area—thanks to the many visitors who bring the beautiful chocolate tins home as souvenirs... the chocolates are so delicious, people call desperate to order more!
The San Francisco Chocolate Factory™ is an active participant in the San Francisco Bay Area Community. We often provide donations of chocolate to worthy causes to help with fundraising efforts. A few of our most recent donations have gone to valuable community organizations like: City of Dreams, The UCSF Blood Center, The San Francisco Department of the Environment, The Hungry Owl Project, San Francisco Gay Pride, Support for Families with Disabilities, The Asian & Pacific Islander Wellness Center, Metropolitan Fresh Start House, The Bay Institute, The United Way, The San Francisco Sheriff's Department, and The California Film Institute. Visit. http://www.sfchocolate.com
Press Inquiries:
Contact:
The San Francisco Chocolate Factory PR
Sandra Evans
& Associates
Tel 415 887 9230
sandra(at)seandassoc(dot)com
###