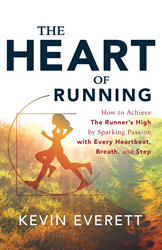 ... Mental health and physical health are married. It is only when both of these characteristics are motivated that one can reach their true potential and their True Wealth is realized.
(PRWEB) October 25, 2016
"The genius in the art of 'The Heart of Running' came in waves and accumulated over the years into an ocean of awareness," Everett writes in the very first line of his book, out today. Everett builds on years of experience in triathlons and coaching to bring a new breath of guidance to students in the running, walking, and movement realms.
Everett provides a path to create more mindful and purposeful walking, running, and ultimately moving in life through personal health empowerment. Along with information on how to finally reach that "Runner's High," readers will also uncover many new edges in their own exercises, including:

The essence of running
Meditative running
Meaningful running
Sustainable running
Running in the moment
Another important part in the core of Everett's teachings is "MQ." Like an IQ, Everett measures one's Movement Quotient by utilizing his own mathematical formulas to navigate every individual's motion quotient, mindful quotient, and meaning quotient. Readers will be able to better understand their own MQ through the book and have access to more information at Everett's website: http://www.mqscore.com.
Former Publisher of Runner's World Magazine, George Hirsch, hails "Heart of Running" as a title for runners, those who want to be runners, or anyone wanting to include movement in their lives.
"Heart of Running" is available at all major retailers and online starting today. Find more information at http://www.ElevatePub.com.