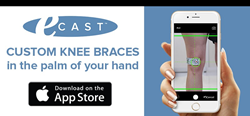 Irvine, CA (PRWEB) October 26, 2016
VQ OrthoCare®, the leading provider of non-invasive, non-drug medical solutions focused on bone, joint and soft-tissue conditions, today introduces its newest custom brace measurement system: the eCast mobile app. The app places the measurement of custom knee braces in the palm of a clinician's hand making measuring fast, accurate and easy to use directly from a mobile device. Orders are sent directly from an iPhone to the manufacturing facility, reducing paperwork and eliminating the need for additional measurements. Faster ordering, faster delivery.
The eCast's defining feature is its image capture technology which guides the user into proper height, distance and tilt of the mobile device camera and auto-captures a picture when the image is correct. The image capture gathers precise anatomical details for a more accurate measurement and a more accurate fit. Clinicians can include patient information, order accessories and specify brace options and all data is transmitted to a secure website compliant with HIPAA regulations.
"The eCast system takes advantage of emerging technology to bring a simplified and accurate measurement system to clinicians that facilitates ordering and manufacturing of custom braces for their patients," said Jim Knape, CEO and founder of VQ OrthoCare.
The eCast app is available at the Apple iTunes store. For more information about the eCast digital measurement app, call VQ OrthoCare at 1-800-266-6969 or visit http://www.vqorthocare.com.
About VQ OrthoCare:
Founded in 1989 and based in Irvine, Calif., VQ OrthoCare® is a leading manufacturer and provider of non-invasive medical solutions focused on bone, joint and soft-tissue conditions. VQ OrthoCare's commitment to treating patients with respect and supporting them in achieving optimum outcomes is unmatched in the industry. VQ OrthoCare's products include: OActive™ 2, Catalyst Propel™ OA, Catalyst-Elite™, Catalyst-Propel™ and FreeFlex™ OA; Fast Start EMS® and HVPC; and the BioniCare® system. VQ OrthoCare is registered with the U.S. Food and Drug Administration as a medical manufacturer and specification developer.