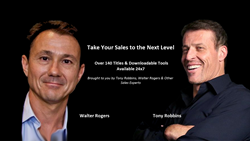 World-class performance never happens by accident.
Houston, TX (PRWEB) October 25, 2016
Tony Robbins and Walter Rogers announced today a new subscription library with over 140 videos and downloadable sales tools to improve sales outcomes. The co-founders promised that these comprehensive sales resources will help elevate a team's or individual's sales skills to the next level of proficiency. The tools are available on demand, 24 x 7, across multiple devices from tablets to laptops. All are offered on a subscription basis, and in time for the holiday season.
Several sample videos are available on the announcement page, and a more in-depth, 7-day free trial is also offered that shows an additional sampling of 12 more videos from the larger collection. These 18 sample videos are designed to show how much can be learned from this comprehensive offering, even for the most experienced and accomplished sales professional. And they are meant to serve as a prelude to the other secrets that will be revealed in the completed library collection, according to company spokespersons.
The company plans to add 10 additional video resources each month, at no additional charge to subscribers. The goal of this subscription library is to elevate sales professionals to the height of their game, whether their need is for exceptional presentation skills, win-win negotiations, account management, sales coaching and management, or customer outcome selling.
"This subscription library is designed to bring the 'best of the best' resources to each and every salesperson, regardless of their current skill level, and no matter where they're located," said Joe DiDonato, Vice President of Learning, Marketing, and Channel Sales. "The videos are typically short 5-minute, micro-learning vignettes, with some topics lasting as long as 12 - 14 minutes. That makes these videos easily digestible whether you're between calls, prepping for your next call, or just sitting in the airport."
"World-class performance never happens by accident," a philosophy shared by co-founders Tony Robbins and Walter Rogers, is the foundation of these teachings. "We live in a time when everyone is stretched to their maximum, and expected to deliver more and more value. This subscription library addresses that growing need by making quality micro-learning available whenever it's needed, and at a cost that every salesperson can afford," said Walter Rogers, CEO of CCI Global Holdings.
To see the sample videos, please go to http://www.BakerCommunications.com/elearning/. You can also sign up for the free trial library sampler on that page as well, or take advantage of the introductory pricing for longer term subscriptions.
About CCI Global Holdings
As one of America's fastest-growing corporate training groups, CCI Global Holdings is made up of CloudCoaching International, Baker Communications, CCI Labs, and 4What Studios. This group of companies has helped nearly 2,000,000 sales professionals reach maximum performance for over 35 years. Globally recognized companies and government agencies, including ExxonMobil, General Electric, Cisco, T-Mobile, Amazon Web Services, Ingersoll Rand and Bank of America depend on CCI Global Holdings companies to equip their employees with skills to increase market share and produce immediate results. CCI Global Holdings has provided custom solutions to sales teams in over 50% of the Fortune 500, utilizing over 400 trainers and coaches worldwide. The team of companies provides customized targeted practice-driven performance improvement solutions that produce rapid, measurable results. CCI Global Holdings' solutions have been utilized and delivered worldwide, throughout Europe, South America, North America, the Middle East, and Asia Pacific. For more information on CCI Global Holdings' solutions and what they can do for your company, please visit: http://www.ccicorp.com.