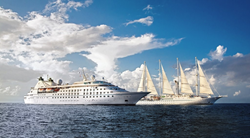 Windstar Cruises continues on a growth course hiring a newly-appointed vice president of human resources; the small ship line employs approximately 1,330 employees, aboard six yachts at sea and ashore in the greater Seattle area.
(PRWEB) October 25, 2016
Windstar Cruises continues on a growth course having recently appointed a vice president of human resources, a new position for the small ship cruise leader. In addition, the line recently hired three individuals with maritime and travel industry expertise into newly created positions to build out its Technical Operations and Deployment Departments. As well, the company has recognized several tenured employees within its Human Resources and Logistical Operations departments with promotions and added responsibilities.
The luxury line operates six iconic ships offering private yacht-style cruising for 148 to 310 guests per cruise, visiting 150 ports internationally each year. The company also recently expanded its corporate headquarters in downtown Seattle and employs approximately 130 people primarily from the region, with some working remotely. The company staffs the line's boutique yachts with approximately 1,200 officers and crew, with a broad range of maritime, tourism and hospitality experience, from nautical officers to destination experts and executive chefs. Windstar's personable employees hail from dozens of countries worldwide reflecting the company's long-standing expertise in diverse cultural travel.
Vice President of Human Resources Valentina Zackrone joined Windstar from transportation company, Sound Transit, where she was chief human resources officer for the past five years. Zackrone also held senior human resources positions in other industries, but is not new to cruising or Windstar, having worked for Holland America Line in the Human Resources Department for nearly a decade starting in 1998. At that time, the Windstar brand was under the Holland America Line umbrella and her responsibilities included planning and union negotiations for Windstar officers and crew, as well as spearheading key initiatives and incentive plans resulting in cost savings and revenue growth. Zackrone is a native of St. Petersburg, Russia, where she attended St. Petersburg University to earn a dual master's degree in education and linguistics. She volunteers on the board of Treehouse for Kids, an organization aimed at improving the lives of foster children. She resides with her family in Issaquah.
Technical Operations Superintendent Timothy McGriff moves into a newly created position at Windstar with a wealth of experience in seagoing and logistics. With 20 years in the industry, his extensive vessel management background will assist Windstar with shipyard projects, such as retrofits and new builds, as well as other technical operations managed from his shore-based position. McGriff holds a bachelor's degree in business administration from the University of West Florida and resides on Camano Island, north of Seattle.
Technical Manager Roar Johannessen joins Windstar after a 22-year career as a consultant for SpecTec in Florida, where he worked with a variety of major cruise lines as a senior consultant overseeing an average of 35 vessels. At Windstar, Johannessen is tasked with organizing a centralized database for asset management across the fleet and oversees the fleet preventive maintenance system AMOS. He is a graduate of the Norwegian School of Trade/Business in Sandefjord, Norway and is based in Florida.
Manager of Deployment and Revenue Planning and Enhancement Jess Peterson recently joined Windstar in a newly created position. Peterson will support the company's cross-departmental deployment and itinerary planning efforts to enhance profitability, guest satisfaction, and Windstar brand positioning within the marketplace, as well as driving efforts to increase overall revenue performance. Peterson joins the small ship cruise line from Holland America Line and Seabourn, where he was part of the Deployment and Itinerary Planning team. Peterson enjoys cruising and traveling from his Seattle home-base, and holds a B.A. in History and a M.S. in Computer Science, both from Stanford University.
Mary Chaussée was recently promoted to Director of Human Resources from within the department. As director, Chaussée plans and directs all aspects of Windstar's human resources policies and initiatives, ensuring company compliance with labor laws and overseeing employment, training, and benefits for all employees. Before joining Windstar's team, she was the manager of shipboard human resources for Celebrity Cruises, Inc. for more than a decade. Chaussée holds a bachelor's degree in history from the University of Iowa and resides in Seattle.
Laurie Clothier has been promoted to Manager of Port Operations, where she builds, maintains, and distributes cruise itineraries, as well as deals with communications, budgets, and invoices in relation to port operations. Clothier has been with Windstar since 2009, serving in a variety of port, marine, and hotel operations positions. Prior to Windstar, she enjoyed two decades in film advertising and promotions. Clothier has been a professional entertainer for most of her life, singing and dancing throughout the Pacific Northwest and western Canada and she performs regionally in various one-woman shows. Clothier holds a bachelor's degree in Theatre Arts from Western Washington University.
Fernando Guardiola was promoted to Logistics Manager after working with Windstar for two years in logistics. Guardiola has a long history in logistics working in railway, airline, and cruise transportation for more than 10 years, including five years with Royal Caribbean International. At Windstar he has helped tackle many of the company's large projects, including the launching of Star Breeze and Star Legend yachts. He holds a bachelor's degree in business administration from the University of Puerto Rico and lives in Florida.
###
Images available for download: https://windstarcruises.webdamdb.com/lightbox/downloadlightboxqueue.php?method=getfile&k=KSNqVLhrmbxcPp1B&source=0