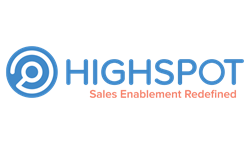 As the sales enablement function continues to evolve, so must the capabilities of a complete sales enablement platform. -Robert Wahbe, Highspot CEO
Waltham, MA and Seattle, WA (PRWEB) October 26, 2016
Brainshark, Inc. and Highspot, Inc. have entered into a strategic partnership to empower more companies to improve sales effectiveness. By integrating their best-of-breed solutions, Brainshark and Highspot deliver unprecedented flexibility for customers, providing the industry's only streamlined capabilities for onboarding, training, coaching, content management, customer engagement and analytics. Customers now have access to the capabilities they need for every phase of the sales cycle: from onboarding new reps to optimizing their content to effectively engaging with customers.
By combining the best of Brainshark's content creation, training and coaching capabilities with Highspot's content management, customer engagement and analytics capabilities, this unique partnership will help sales teams improve performance throughout the sales cycle. Together, these two platforms provide fully integrated access to the training, coaching and content sales reps need, when and where they need it.
The partnership is driven by the desire to help customers elevate the effectiveness of their sales teams and the power of their sales content. In addition to the technology integration, the partnership also includes preferred vendor status, joint marketing efforts and implementation services to ensure clients derive maximum value from the combined solutions.
In recent years, sales enablement has emerged as a strategic priority for maximizing sales efficiency and performance, especially among B2B companies – with 71 percent of C-level executives noting that sales productivity is "critical" to future growth. Through their collaboration, Brainshark and Highspot are better positioned to help sales teams become experts in their fields quicker, engage their audiences more effectively and share best practices in real-time. This combination will help customers of both companies accelerate sales processes and increase their win rates.
"Sales reps don't have time or patience for technology that doesn't work well together – if you are asking them to bounce from application to application to get what they need, engagement and efficiency will suffer," said Heather Cole, service director for sales enablement strategies at research and advisory firm SiriusDecisions. "It is not enough to simply provide multiple best-in-class enablement technology solutions – tight integration is a requirement for top-performing sales organizations. When it comes to the content and tools reps need to both prepare for customer interactions and to fuel those interactions, streamlining the rep experience leads to more consistent utilization and ultimately can drive higher performance."
The combined solutions allow customers to accelerate results in all critical pillars of sales enablement, including:
Sales Readiness: From sales onboarding and cutting new hires' time-to-productivity, to quickly "re-boarding" an entire sales force in response to new products and messaging, sales enablement leaders require solutions to easily build, distribute and manage learning content, and evaluate and assess rep readiness.
Brainshark and Highspot customers will be able to take advantage of dynamic learning for sales onboarding, training and coaching. These solutions provide a simple way for companies to take a competency-based approach to the ongoing development of their reps, while empowering front-line managers to play critical coaching roles and hone team-wide performance.
Sales Content Creation and Management: Delivering the right content at the right time based on the buyer's journey fuels a successful dialogue between sellers and customers. In addition, recommended content, coupled with quick access to selling tools and in-context training, eliminates time wasted looking for content and improves seller productivity.
With Brainshark and Highspot, customers will have a proven solution to improve performance and close the loop across sales, marketing and target audiences. Organizations can ensure sales teams are connected to the most relevant content for each situation. Plus, sellers can create new, rich-media content, and have easy access to all resources when and where they are working – including within their CRM, calendar, email and online learning environments.
Customer Engagement: Sales reps use a variety of technologies to engage their customers, including email, online presentations, micro-portals and telephone. Making this process more efficient, stable, dynamic and integrated helps reps reach their goals faster.
Brainshark and Highspot enable better customer engagement experiences for sellers and buyers. Whether through email, online presentations or sales acceleration tools, sellers are now able to engage buyers with their most effective content, regardless of format. In addition, sellers automatically receive real-time alerts when a customer opens, downloads or shares content.
Performance Analytics: Continual performance analysis is the key to improving processes, training, content and pitches. Most organizations have a limited ability to track the impact of sales training and content. Powerful analytics now close the loop and give sales enablement professionals the insight they need to measure what is working, and where to focus sales performance improvement efforts.
Brainshark and Highspot provide complete analytics across onboarding, training, content and pitching performance by measuring customer engagement, sales rep performance and impact on revenue. By combining data and analytics from the two technology platforms, sales enablement managers using Brainshark and Highspot will be in a better position than ever before to continuously improve sales performance.
"The best partnerships are the ones that are created – demanded – by the needs of the market and customers," said Greg Flynn, Brainshark CEO. "Time and time again, we see two critical problems that sales enablement leaders are responsible for solving: maximizing their sales talent and better managing the ocean of sales content reps have at their disposal. This partnership with Highspot is a way of providing today's sales enablement teams with a unique solution that solves these problems and more."
Robert Wahbe, Highspot CEO, said: "As the sales enablement function continues to evolve, so must the capabilities of a complete sales enablement platform. With Highspot and Brainshark, organizations have a platform that optimizes selling potential from day one through the tenure of a sales rep – providing the training, coaching, content, pitching tools and performance analysis to continuously improve. Together, Highspot and Brainshark provide the only seamlessly integrated end-to-end sales enablement solution."
About Brainshark
Brainshark sales readiness software equips businesses with the training, coaching and content creation capabilities to achieve sales mastery and outsell the competition. With Brainshark, companies can: prepare sales teams with on-demand training that accelerates onboarding and keeps reps up-to-speed; validate readiness with sales coaching that ensures reps master your message; and empower sales organizations with rich, dynamic content that can be created quickly and accessed anywhere. Thousands of companies – including more than half of the Fortune 100 – rely on Brainshark to identify and close performance gaps, and get better results from their sales enablement initiatives. Learn more at http://www.brainshark.com
About Highspot
Highspot helps sales teams increase conversion rates and generate more revenue faster. From sales content management to pitching and analytics, the Highspot platform delivers enterprise-ready features and platform integration in a modern design that sales reps love. Using Highspot, sales teams are able to stay connected to the best-performing content for each opportunity, customize and optimize their content, and more effectively engage with their customers and prospects. With nearly 90% average monthly recurring usage, Highspot is delivering on the promise of Sales Enablement. Learn more at http://www.highspot.com