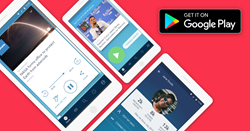 "Now, people can listen to the podcasts and news they love without wasting time looking for them."
San Francisco, CA (PRWEB) October 25, 2016
Finding the right podcasts and interesting news has always been a tricky task for Android users--until now. Starting today, Otto Radio, the #1 iOS app for podcast discovery and personalized audio news, is now available on Google Play Store. Otto offers the personalization of Flipboard and the discoverability of Pandora while being as easy to use as traditional radio.
Now Android users can discover podcasts they love and get their own front page of news read to them, effortlessly. With Otto Radio, your interests determine what you hear – Sports, Business and Money, Politics, Technology, Entertainment, Comedy, U.S. and World News – making every broadcast as unique as you.
"Our goal is to serve you the personalized audio content that makes your busy day even better," said Stanley Yuan, CEO and co-founder of Otto Radio. "Otto is the only app on the Play Store that filters so many sources this intelligently with no user effort. Now, people can listen to the podcasts and news they love without wasting time looking for them."
Finally, Android users can stop scanning the radio dial and scouring the internet and start listening to the news, podcasts, talk shows and in-depth stories that matter to them.
Otto Radio is available for free from Google Play Store
About Otto Radio, Inc.: Our mission is to connect people to the content and information they want – intelligently and safely. We are built on the idea that your digital lifestyle doesn't have to stop just because you're on the go. And that time spent occupied with everyday tasks like driving, cooking or exercising can be transformed into opportunities to learn, be entertained and stay informed. Learn more at http://www.ottoradio.com.