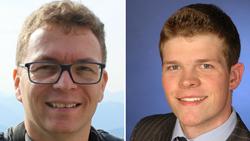 Yorba Linda, Ca (PRWEB) October 25, 2016
The structure of chromatin is critical for many aspects of cellular physiology and is considered to be the primary medium to store epigenetic information. The nucleosomes together with the non-histone proteins define a stable chromatin structure.
Regardless of its stability, this structure is disassembled and reassembled during DNA replication, repair, recombination or transcription. During all those processes, defined chromatin regions become accessible to be bound by the required factors, resulting in extensive nucleosome turnover at given genomic loci. The dual nature of chromatin requires a continuous interplay between stable and dynamic structures, which has to be coordinated at the molecular level to maintain the epigenetic information stored in the chromatin structure.
Despite the biological relevance of these processes, little is known about the order of chromatin assembly steps, the molecular mechanisms that coordinate the required cellular machinery in time and the quality control of this assembly. To address these questions, the team at the biomedical center of the LMU uses an in-vitro system that resembles the formation of chromatin on double-stranded DNA. This in-vitro system not only enables researchers to dissect critical steps of assembly, but also to verify predictions based on previously published data on proteomic analysis of captured nascent chromatin (NCC) in living cells.
SCIEX will sponsor this free webinar on the implementation of label free quantitative SWATH-MS at different assembly times, enabling the identification of distinct aspects of chromatin assembly such as the appearance and disappearance of histone modifications.
Two researches from Ludwig Maximilian University (LMU) in Munich present during this webinar, PhD candidate, Moritz Völker-Albert and Dr. Andreas Schmidt.
As PhD student in the chromatin proteomics group at the LMU, Moritz Völker-Albert investigates the kinetics of chromatin assembly. Prior to starting his doctorate in Munich in 2013, Völker-Albert completed his master's degree in biomedical sciences at the Universities of Leiden and Utrecht in the Netherlands. During his studies, he focused on several aspects of chromatin research like chromatin remodeling assays, DNA repair and proteomic analysis of chromatin complexes.
Andreas Schmidt earned his doctorate degree from University of Vienna, where he studied phosphorylation of arginine as stress-induced protein tag in bacteria. In collaboration with the group of T. Clausen, the team described the protein arginine kinase and improved enrichment and identification of peptides with this modification. Since 2013, he has worked as PostDoc for development of protocols for proteomics analysis and proteomics data analysis at the Department of Molecular Biology of the Medical Faculty of the LMU. The focus of his work is development of data independent acquisition methods for quantitation of proteins and protein modifications as well as improving the data analysis of data-independent mass spectrometry data.
LabRoots will host the webinar on November 23, 2016, beginning at 8:00 a.m. PT, 11:00 a.m. ET. To read full event details or register for free, click here.
About SCIEX:
SCIEX helps to improve the world we live in by enabling scientists and laboratory analysts to find answers to the complex analytical challenges they face. The company's global leadership and world-class service and support in the capillary electrophoresis and liquid chromatography-mass spectrometry industry have made it a trusted partner to thousands of the scientists and lab analysts worldwide who are focused on basic research, drug discovery and development, food and environmental testing, forensics and clinical research.
With over 40 years of proven innovation, SCIEX excels by listening to and understanding the ever-evolving needs of its customers to develop reliable, sensitive and intuitive solutions that continue to redefine what is achievable in routine and complex analysis. For more information, please visit sciex.com.
About LabRoots:
LabRoots is the leading scientific social networking website and producer of educational virtual events and webinars. Contributing to the advancement of science through content sharing capabilities, LabRoots is a powerful advocate in amplifying global networks and communities. Founded in 2008, LabRoots emphasizes digital innovation in scientific collaboration and learning, and is a primary source for current scientific news, webinars, virtual conferences, and more. LabRoots has grown into the world's largest series of virtual events within the Life Sciences and Clinical Diagnostics community.