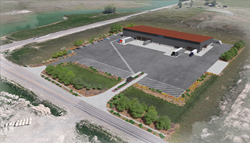 Glass recycling, in particular, is extremely beneficial to the environment. It saves tons of energy and C02 emissions
Logan, UT (PRWEB) October 26, 2016
The walls are rising on a new Recycling Facility in Northern Utah. Revolve, located at 1400 W. 200 N. in Logan will service customers in Weber, Box Elder, and Cache counties in Utah as well as surrounding states Wyoming, Idaho, & Montana. The facility adds more complete services to the region with state-of-the-art sorting and processing equipment. As counties, including Weber County in Utah, revisit their recycling contracts, Revolve paves the way for comprehensive single-stream (co-mingled) recycling, including glass—an elusive service for much of the Mountain West.
"Curbside recycling has been increasing throughout the country over the past decade, but we still have room to improve," said Alex Bearnson, President, and CEO of Revolve. "Glass recycling, in particular, is extremely beneficial to the environment. It saves tons of energy and C02 emissions," he added. According to the Glass Packaging Institute, for every six tons of recycled container glass used, a ton of carbon dioxide, a greenhouse gas, is reduced.
Nationally, Americans recycle 34% of their waste, a far cry from the 86% that is theoretically possible. "A lot of people take trips to the landfill to drop off bulky items and green waste, when in reality, 95% of them can take their waste to a recycling center where our new equipment can process it," said Bearnson.
Waste collection, which balances landfill-destined material from recyclables, has remained a hot topic for northern Utah. Costly transfer stations have cropped up throughout the area and Cache Valley will be phasing out its existing landfill in the coming years as it reaches capacity. An increase in recycling, particularly curbside, not only has environmental and economic benefits, it decreases the strain on landfills and city infrastructure.
Bearnson has worked in waste solutions since stumbling into the career after college. He founded Revolve after he saw a need for recycling solutions observing more sophisticated services in more populous states. The company services counties and municipalities, commercial enterprises, construction businesses and is open to residents as well. The company prides itself on waste disposal that is fast, convenient, clean, and as the employees refer to it, "dumptastic."
###