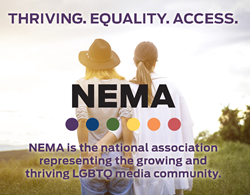 We've always believed that the gay community had spending power and we now have the numbers to prove it.
New York, NY (PRWEB) October 25, 2016
The National Equality Media Association (NEMA) launched today as the country's only nonprofit serving LGBTQ media partners. NEMA serves as the digital and social window to a thriving demographic.
Many companies are realizing the LGBTQ community as a massive growth market. According to Bloomberg, LGBTQ adults spent more than $900 billion last year. With advertiser support from Fortune 500 brands, NEMA has established media relationships in the top 25 media markets, such as San Francisco, Los Angeles, Denver, Houston, Chicago, New York and Miami.
"We've always believed that the gay community had spending power and we now have the numbers to prove it," said NEMA President & Co-Chair Jerry Cunningham. "LGBTQ media buys have led to great ROI for a handful of corporations, but if media buyers are looking at these numbers, LGBTQ media should be part of every business' marketing strategy."
NEMA is a beacon at the forefront of digital media platforms, where many LGBTQ citizens shine as trailblazers.
According to Facebook, more than 6 million U.S. users identify as LGBT, and influencers are finding dedicated followings on Millennial-focused social channels such as YouTube, Periscope and Snapchat. NEMA membership now represents traditional media as well as key social channels and mobile.
"For decades, our community primarily communicated through gay media." Cunningham said. "Along the way, we've built a powerful 360° media network in order to engage our audience through multiple media channels — expanding our reach and frequency, while catering to the media habits of our community."
Born out of a desire to connect media partners that cater to the LGBTQ community, NEMA is the trusted national association representing their growing and thriving presence of LGBTQ media.
About NEMA:
NEMA is the nation's only nonprofit organization dedicated to supporting LGBTQ media outlets. NEMA partners cover national and local LGBTQ issues, as well as opinion, arts and culture, sports and entertainment. Visit NEMA's new website at http://equalitymedia.org/.