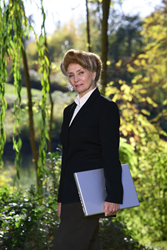 Grants Pass, OR (PRWEB) October 25, 2016
Sharon Kleyne, host of The Sharon Kleyne Hour Power of Water, Global Climate Change and Your Health radio program, announced on the air a remedy for recurrences of red, dry eye symptoms, which political candidates are grappling with, especially during television and personal appearances. Noting that Twitter, Facebook and the rest of the Social Media World has been ablaze with talk and opinions about Donald Trump's red eyes at the final Presidential Debate in Las Vegas, Kleyne, global Water Life Science® champion whose advanced water research has shaped and inspired a new water lifestyle, said, "It all could have been avoided if only Mr. Trump and Secretary Clinton had misted for five seconds with Nature's Tears® EyeMist®.
The signature product of the company Sharon Kleyne founded, Bio-Logic Aqua® Research Water Life Science®, Nature's Tears® EyeMist® is the only Trade Secret tissue culture grade water product to treat over-evaporation of the eye lens, which is 99% water, and dry eye disease on the planet."Eye drops and saline solutions are only temporary fixes. They can blur eyesight and increase irritation over the long run," said Kleyne, who has earned the respect and admiration of scientists, doctors and researchers around the world for her work in water vapor evaporation and supplementation of the body's water vapor.
Sharon Kleyne, a tireless advocate for water research and education, would like to see not only politicians and entertainers, but everyone using Nature's Tears® EyeMist®. "It's easy to use, and it's fun," said Kleyne, passing her hand swiftly in front of her eyes from left to right and back again while applying a micron mist from her company's portable hand-held humidifier. "The mist is painless and free of additives," said Kleyne, and it soothes and clears red eye and other eye irritations by supplementing the eye's water vapor, which is compromised by over-evaporation."
"Politicians, especially before a big event, would be wise to treat their eyes," Sharon Kleyne said, "especially with Nature's Tears® EyeMist®. "The alternative," Kleyne added, "is to become the focus of social media, not for your virtues, but because you are suffering from a red eye condition that calls into question your overall health and fitness, and in a presidential contest, especially, that's the last thing you want to do."