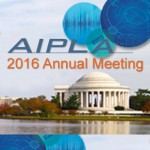 Chicago, Illinois (PRWEB) October 25, 2016
ktMINE, an intellectual property (IP), innovation, and intangible asset information services firm, announced today that they are exhibiting at the American Intellectual Property Law Association (AIPLA) 2016 Annual Meeting, taking place October 27 - 29, 2016 in Washington, D.C. The Annual Meeting brings together over 500 intellectual property attorneys and affiliates from around the world in exploration, interaction, and education.
ktMINE's John F. Kennedy, Business Development Director, and Brett Schoell, Business Development Manager, will be representing ktMINE at booth 45 in the exhibit hall. ktMINE works with legal professionals in corporations and law firms to enhance their business development and legal research through access to IP information. Legal professionals use ktMINE for: monitoring competitors, industries, and technologies to assist in intelligence analysis; supporting IP projects for licensing, commercialization, and M&A; validating IP information for litigation or compliance; identifying market changes, innovations, and emerging trends to support strategic initiatives; and more.
The AIPLA Annual Meeting offers opportunities to connect with others in the IP industry from the US and around the world while learning about the latest breakthroughs in IP standards, laws, and policies. Educational sessions will feature topics such as: the software innovation and protection dilemma, USPTO trademark examination, the Defend Trade Secrets Act, global IP enforcement strategies, patent licensing and negotiation, PTAB trial practice, the UPC and the european patent system, and many more.
About ktMINE
ktMINE, headquartered in Chicago, IL, is an IP, innovation, and intangible assets information firm founded in 2008. Focused on mining, organizing and connecting the world's IP information, ktMINE provides businesses across the globe access to insights on industry players, technologies, and developments. For more information, visit http://www.ktmine.com, or contact ktMINE to schedule a meeting.