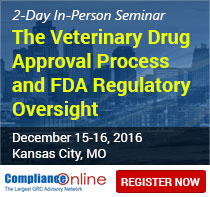 The Veterinary Drug Approval Process and FDA Regulatory Oversight
Palo Alto, CA, USA (PRWEB) October 25, 2016
ComplianceOnline, the leading governance, risk and compliance advisory network with over 500 experts in various regulatory subjects, today announced a seminar on The Veterinary Drug Approval Process and FDA Regulatory Oversight. The two day seminar led by Veterinary Drug Development Specialist Rob Hunter will be held on December 15 and 16, 2016 in Kansas City, MO.
During the two day interactive seminar, Dr. Hunter will discuss the process by which veterinary drug products are reviewed and approved. Attendees will obtain a working knowledge of various sections comprised within an NADA including Chemistry, Manufacturing and Controls (CMC), safety, efficacy, and environmental impact. The course will also help them develop a corporate compliance strategy covering labeling, marketing and advertising.
For more information or to register for the seminar, please click here.
Seminar Instructor Rob Hunter has over 20 years of veterinary and human drug development experience with NASA, Pfizer, Elanco, Parnell, and Provetica. Dr. Hunter is an internationally recognized subject matter expert on pharmacokinetics, antimicrobial PK/PD, interspecies allometry, drug metabolism, bioequivalence, and tissue residues/human food safety along with corresponding bioanalytical support.
This course is designed for personnel responsible for overseeing regulatory affairs, developing veterinary drug products, evaluating new technologies or applications, and those tasked with ensuring corporate compliance. It will be beneficial for CRO professionals, regulatory and compliance professionals, process owners, document and record retention specialists, consultants, inspectors and cGxP experts.
Date:Thursday, December 15, 2016 (8.30 AM- 4.30 PM) and Friday, December 16, 2016 (8.30 AM- 4.30 PM)
Location: Kansas City, MO
Registration Cost: $1,999.00 per registration
Early bird discounts: For discounts on early registrations, please click here.
Register by phone: Please call our customer service specialists at +1-888-717-2436 or email to customercare(at)complianceonline(dot)com
For more information on ComplianceOnline or to browse through our trainings, please visit our website.
About ComplianceOnline
ComplianceOnline is a leading provider of regulatory compliance trainings for companies and professionals in regulated industries. ComplianceOnline has successfully trained over 35,000 professionals from 9,000 companies to comply with the requirements of regulatory agencies. ComplianceOnline is headquartered in Palo Alto, California and can be reached at http://www.complianceonline.com. ComplianceOnline is a MetricStream portal. MetricStream (http://www.metricstream.com) is a market leader in Enterprise-wide Governance, Risk, Compliance (GRC) and Quality Management Solutions for global corporations.
For more information please contact:
A Reuben Bernard
Associate Director - ComplianceOnline
2600 E Bayshore Rd
Palo Alto CA USA 94303
Phone - 650-620-3937/650-620-3915
Fax - 650-963-2556
Mail: reuben(at)complianceonline(dot)com
Website: http://www.complianceonline.com