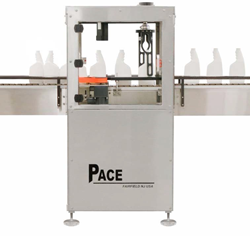 FAIRFIELD, NJ (PRWEB) October 25, 2016
Pace Packaging, powered by Pro Mach, is adding a new secondary bottle orientor to their lineup. The new BAO200 is a servo driven bottle orientor developed to complement the success of the BAO5000 in the Omni-Line Series of Bottle Axial Orientors, also known as automatic plastic bottle orientors. The BAO200 will be in continuous operation during all four days of Pack Expo to demonstrate its operating capabilities. (Pace Packaging Pack Expo Booth #S-3822)
Designed around the needs expressed by their customers, Pace Packaging identified a gap that the BAO200 helps fill — providing customers a slower speed option while still including all the same great features the Omni-Line Series has been known for previously. The system highlights a rugged yet compact design allowing for functional operation in all production environments and selective bottle orientation sensing devices. The BAO200 can be integrated with a bottle unscrambler or it is offered as a stand-alone system.
Key Features of the Omni-Line Series
Omni-Line machines can handle off-center neck bottles, F-style bottles, square bottles, trigger sprays, bottles with external or internal handles, silk screened bottles, in-mold label bottles, full bottles, and other odd shaped bottles. Machines are built with stainless steel. The Omni-Line features tool less changeovers: Easy, simple, and less than 10 minutes. Each Omni-Line machine offers floor level access to all components for ease of operation and maintenance.
Additional Equipment On Display
To accompany the BAO200 at Pack Expo, the Omni-line Model 500 and the company's high-speed Pharma-line Model 400, capable of unscrambling and delivering an ionized air rinse and concurrent vacuum at speeds greater than 300 bottles per minute, will also be on display. Both machines will be in operation during the show, demonstrating Pace's full range of equipment capabilities.
For more information on the BAO2000 or any of its other product offerings, call the Pace Packaging sales department at 1-800-867-2726 and visit http://www.PacePackaging.com to learn more about the company's full lines of bottle unscramblers, bottle orientors, and conveyor cleaners. And, visit Pace Packaging at Pack Expo Booth #S-3822 to see the machines in continuous operation.
About Pace Packaging
Pace Packaging is a leading provider of automated bottle unscramblers, bottle orientors, and conveyor cleaning systems. Pace has provided solutions across a variety of industries including beverage, food, household chemicals, personal care products, and pharmaceutical for over 40 years. The company was founded in 1968 and is headquartered in Fairfield, New Jersey.
About Pro Mach
Pro Mach is a leading provider of integrated packaging and processing products and solutions for food, beverage, consumer goods, pharmaceutical, and other diverse companies. Through multiple brands, Pro Mach provides product packaging and processing equipment, PMMI certified trainers, installation, parts, and service in Bottling & Capping, Primary Packaging, Pharmaceutical Packaging, Flexible Packaging, Material Handling, Labeling & Coding, and End of Line, as well as Integrated Solutions for complete packaging lines.
Pro Mach has a diverse customer base, from Fortune 500 companies to smaller, privately held businesses worldwide, which depend on reliable, flexible, technologically advanced equipment and integrated solutions. Pro Mach is headquartered near Cincinnati, Ohio, with manufacturing facilities and offices throughout the United States, Canada, Mexico, Europe, United Arab Emirates, and China. For more information about Pro Mach, please visit http://www.ProMachInc.com.