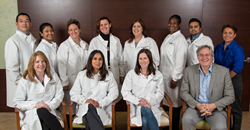 Danbury, Connecticut (PRWEB) October 25, 2016
Western Connecticut Health Network (WCHN) has named internationally known physician-scientist, John A. Martignetti, MD, PhD, an expert in human genetics and genomic sciences at the Icahn School of Medicine at Mount Sinai, as the Network Director of the Laboratory for Translational Research at the WCHN Biomedical Research Institute. Under this collaboration, Dr. Martignetti's well-established bedside to bench cancer research methodology will be extended to patients at Danbury, Norwalk and New Milford hospitals leading to more personalized and successful therapeutic strategies. He will work closely with the oncology physicians and research scientists across WCHN to build on their nationally recognized efforts.
Working alongside new colleagues at WCHN, Dr. Martignetti will continue to explore precision medicine strategies to 1) advance the care and treatment of patients with gynecologic cancer and 2) establish effective biomarkers to enable reliable disease surveillance leading to more predictable care pathways. He will also pursue development of novel therapeutics while studying the genetics of hereditary ovarian and breast cancer.
"WCHN offers innovative cancer care that rivals any center in the country," Dr. Thomas Rutherford, WCHN Network Director for Cancer Services said. "As a practitioner, it is very exciting to be working with someone of Dr. Martignetti's reputation and devotion as we collaborate on new ways to beat cancer. I am looking forward to integrating the excellent cancer programs, services, and providers in our cancer care team at WCHN with the exciting research Dr. Martignetti has underway so our patients are served by the most personalized medicine possible."
"We are thrilled to have Dr. Martignetti join the WCHN family and lead our Translational Research team," said WCHN President and CEO Dr. John Murphy. "John has an outstanding reputation for both his clinical and research experience, and he is so deeply committed to solving the needs of those suffering from cancer. His vision and leadership will enhance the great care provided by an excellent cancer team in place today. Working with Dr. Tom Rutherford and our oncology team, his guidance, as we transform cancer care for our communities, will be invaluable."
"I am excited to join the very dedicated and committed cancer team at WCHN and look forward to this partnership that is aimed at revolutionizing oncology research and patient care," said Dr. Martignetti, MD, PhD, Associate Professor of Genetics and Genomic Sciences, Oncological Sciences, Pediatrics, Obstetrics, Gynecology and Reproductive Science at the Icahn School of Medicine at Mount Sinai.
He earned his BA from Columbia College, Columbia University and was awarded his MPhil in molecular biology from Cambridge University. He received his MD and MD, PhD from the Icahn School of Medicine at Mount Sinai in New York and is widely published in the fields of Cancer Genetics, Gene Discovery, Genomics, and Molecular Biology.
About Western Connecticut Health Network Oncology Services
Western Connecticut Health Network is the region's leading provider of cancer care services. Danbury Hospital Praxair Cancer Center, New Milford Hospital Diebold Cancer Center and Norwalk Hospital Whittingham Cancer Center are nationally accredited as Comprehensive Care Programs by the American College of Surgeons (ACS). The Centers are the recipients of "Accreditation with Commendation" from the Commission on Cancer which recognizes cancer programs that strive for excellence in providing comprehensive, multidisciplinary quality care to cancer patients.
At Western Connecticut Health Network, our patients and their families receive an exceptional level of care, support and access to clinical trials in a compassionate environment, close to home, by our multidisciplinary care team of experienced medical oncologists, radiation oncologists, surgical oncologists, pathologists, radiologists, oncology nurses along with our oncology nurse navigators and other specialists with advanced training.
Research at Western Connecticut Health Network
Research and innovation at the WCHN includes the WCHN Biomedical Research Institute where the focus is on cancer and Lyme disease research. This work is complimented by our Global Health, Harold A. Spratt Center for Simulation and Clinical learning, our clinical trials and clinical outcomes and health services research-all funded by generous donors who recognize the life- changing and life-saving work underway. For more information contact the WCHN Foundation.
About Western Connecticut Health Network
Western Connecticut Health Network is the region's premier, patient-centered health care organization serving residents of Western Connecticut and adjacent New York. With this recent affiliation, the organization is now anchored by three nationally recognized hospitals, Danbury Hospital, New Milford Hospital and Norwalk Hospital, as well as their affiliated organizations. In addition to the three hospitals, the continuum of care offered includes numerous medical practices and sub-specialties across the region, home health care services, a nationally renowned biomedical research institute, the Danbury Hospital & New Milford Hospital Foundation, the Norwalk Hospital Foundation and other affiliates. For more information, visit TheNewWCHN.org. Share your comments with us at Facebook.com/DanburyHospital; Facebook.com/NewMilfordHospital and/or Facebook.com/NorwalkHospital.
# # #